p
Pasta Fazool
Frank's Thought
Growin' Up Italian
*
Recipes and Video's below
Pasta Fazool – Pasta Fagioli meaning "pasta and beans" is a traditional Italian dish. The proper name in grammatical Italian is Pasta Fagioli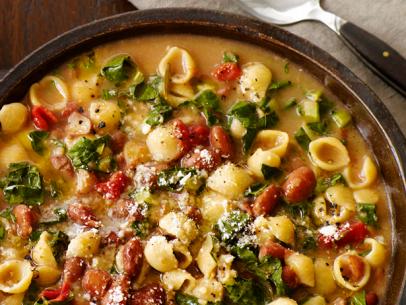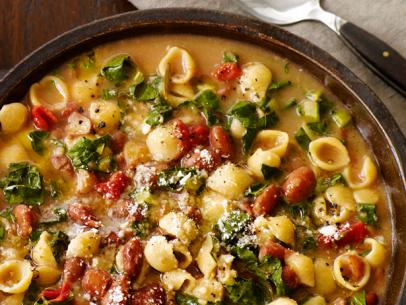 Recipes for pasta fazool – Pasta Fagioli vary. The only true requirement is that beans and pasta are included. While recipes vary from region to region it is most commonly made using cannellini beans and a small variety of pasta such as elbow macaroni or ditalini. The base typically includes olive oil, garlic, minced onion, celery, carrots and often stewed tomatoes or tomato paste.
Some recipes simply call for a meat-based stock.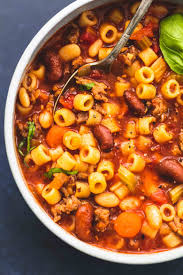 In Bari the dish is thicker in consistency and uses mixed pasta shapes. Other varieties call for the beans to be passed through a food mill, giving it a stew-like consistency.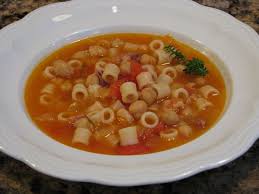 The word for "beans" varies in different Italian dialects, Fagioli in standard Italian and Fazool  in Neapolitan.  
Pastafazoola, a 1927 novelty song by Van and Schenck, capitalized on the Neapolitan pronunciation, "Don't be a fool, eat pasta fazool".
Dean Martin's song "That's Amore" included the rhyme "When the stars make you drool, justa like pasta fazool. that's amore".
Below you can find two wonderful recipes
Click here for Chef Pasquale's recipe for Pasta Fazool
And the video below – Frank's thoughts on Growin' Up Italian and his fond memory of

Pasta

Fazool.
Hope you enjoy.
Let us know how it came out.
*
p
Join Joanne and Frank on Facebook at
and Visit us on the web at
www.EverybodyLovesItalian.com