Cannoli with Bailey's Irish Cream Filling for St. Patrick's Day
Cannoli with Bailey's Irish Cream Filling for St. Patrick's Day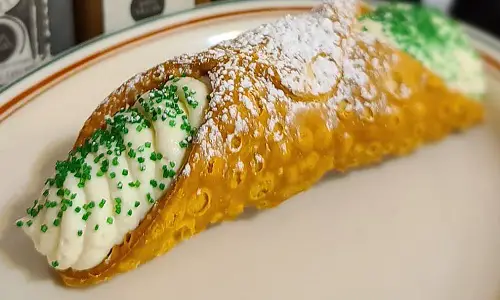 Ingredients:
18 large cannoli see recipe below for homemade

4-1/2 cups ricotta cheese

1 cup sugar

1 cup Bailey's Irish Cream liqueur

Confectioners sugar for dusting

Green sanding sugar for garnish
Directions:
Combine ricotta, sugar, and liqueur.  Beat until smooth.  Refrigerate for 1 hour or until serving time before filling cannoli shells.

Using a pastry bag or a small spoon, fill the shells with the filling from both ends.  Do not fill the shells until up to an hour before serving, as the filling will make the shells soggy.

Dust the top of the cannolis with confectioners' sugar and Green sanding sugar for garnish
Traditional Cannoli Shells
(Makes about 18)
Ingredients:
3 cups flour

1/4 cup sugar

1 teaspoon cinnamon

1/4 teaspoon salt

3 tablespoons shortening

2 eggs, well beaten

2 tablespoons white vinegar

2 tablespoons cold water

1 egg white, slightly beaten

Vegetable oil for deep frying
Directions:
Sift together flour, sugar, cinnamon, and salt.

Cut shortening in with a pastry blender until the pieces are the size of small peas.

Stir in eggs.

Blend in the vinegar and cold water. Turn dough onto a lightly floured surface and knead until smooth and elastic, about 5 minutes. Add additional flour, if needed, to get a smooth dough.

Wrap in plastic wrap and refrigerate 30 minutes.

Set out 6 aluminum cannoli tubes. Heat oil in a deep saucepan  to 360 degrees F.

Roll chilled dough on a lightly floured surface to 1/8-inch thickness.

Use a 4 to 4.5-inch circle cookie cutter to cut the dough into rounds.

Wrap the dough rounds loosely around the tubes, slightly overlapping opposite ends. Seal ends by brushing with egg white and pressing together.

Fry only as many shells as will float uncrowded in the hot oil. Fry until light golden brown, 3-4 minutes.

Remove cannoli shells to paper towels to drain. Cool slightly and remove the tubes.

Cool shells completely. Continue forming and frying cannoli shells.