Ricotta Pancakes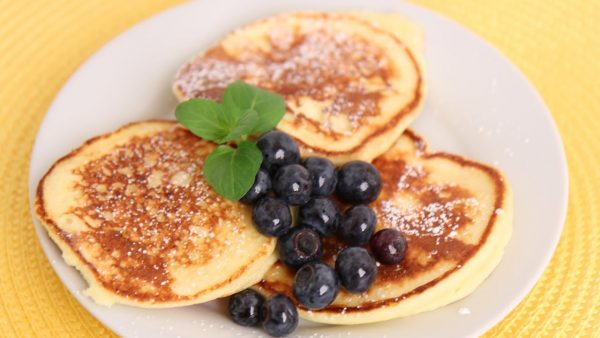 Pancakes are associated with Shrove Tuesday because they are a way to use up rich foods like eggs, milk and sugar before Lent. Pancake Day is eagerly awaited and hungrily celebrated each year, offering an opportunity to gorge yourself on sweet treats before the abstinence of the lent season

Ingredients
Preparation10 minutes Cook time5 minutes Servings Serves 4-6
For the Pancakes:
2/3 of a cup of All Purpose Flour

    1 ½ cups of Ricotta Cheese

    2 Tbsp of Whole Milk

    4 Eggs, separated

    3 Tbsp of Sugar

    Zest of 1 Small Lemon

    ½ tsp of Vanilla Extract

    ¼ tsp of Salt

    ½ tsp of Baking Powder
For the Blueberries,
   1 pint of Fresh Blueberries, washed

    About 2 Tbsp (or more depending on the sweetness of the berries) of Granulated Sugar

    Juice of Half of a Small Lemon (the one we zested)

    Few Fresh Leaves of Mint
Preparation
1) In a bowl, toss the blueberries with the sugar, lemon juice and mint leaves and set aside.
    2) In a large bowl, beat the egg whites with a handheld held electric mixer until the egg whites develop stiff peeks.
    3) In another bowl, whisk together the ricotta, egg yolks, milk, sugar, lemon zest and vanilla with the same mixer so that you have a nice creamy mixture.
    4) Add the flour, salt and baking powder to the ricotta mixture and mix It in to combine well.
    5) Fold in the whipped egg whites very gently and set aside for a few minutes while you preheat your griddle.
    6) Preheat a griddle over medium heat, brush with some butter and ladle ¼ cup of the batter for each pancake onto the hot griddle.
    7) Allow them to cook for a couple minutes on each side or until deeply golden.
    8) Place onto a plate and spoon over the blueberry syrup.