Cantucci (Prato cookies)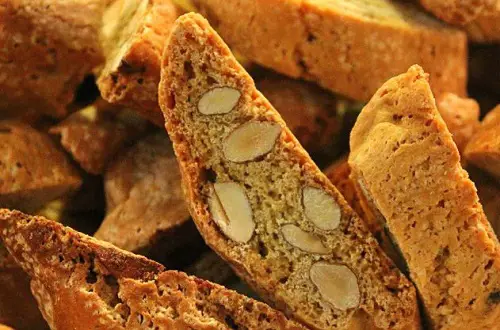 Ingredients For 1 kg of flour:
Sugar 1 kg
00 flour 1 kg
8 eggs
almonds, toasted and chopped 400g
hazelnuts, toasted and chopped 100g
1 teaspoon of vanilla extract
orange peel, grated
2 teaspoons of baking powder for biscuits (ammonium carbonate).
PREPARATION
In a bowl place the flour, then add the sugar and egg yolks and mix well. Whip the egg whites and add them to the mixture then add the almonds and hazelnuts previously toasted and chopped. Work long to make smooth paste, then add the vanilla, grated orange peel and baking powder for biscuit.
Mix everything well again then divide the dough into loaves that lengthen giving it the shape of many small cylinders and press them slightly doing a little pressure with your hand.
Now arrange the cookies on a baking sheet sprinkled with flour and place in oven preheated to 200 ° C.
As soon as they are golden, remove from oven, let cool, slice each loaf as slice ​​bread and serve cookies as desired.