Florentine eggs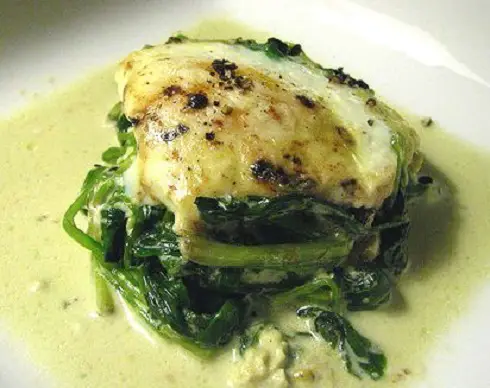 Ingredients for 4 people:
 Spinach 600g
butter (or margarine) 20g
nutmeg
salt and pepper.
For the sauce
Flour 20g
butter 20 g
1 small glass of milk
1 ladle of hot broth
Emmenthal cheese (or Parmesan) cheese 20 gr
nutmeg
salt and pepper.
For eggs
8 eggs
2 liters of water
5 tablespoons of vinegar
1 tablespoon of salt.
To brown
25 g grated Emmenthal cheese
20 g of butter.
 PREPARATION
Clean, wash and boil the spinach without water and with a pinch of salt. Drain it and squeeze well.
In a saucepan melt the butter then add the spinach and cook for 2 minutes, stirring gently; season with salt, pepper and a pinch of nutmeg then arrange in a baking dish leaving them in a warm place.
Prepare the sauce: melt the butter in a saucepan, then add the flour all at once and let it toast for 2 minutes then add the broth and milk, stirring constantly for 5 minutes.
Season with salt and pepper and sprinkle with a pinch of nutmeg, then add the grated cheese stirring constantly until the cheese will be melted. Keep the sauce warm.
In a large saucepan, boil water with salt and vinegar; Break the eggs, one at a time, in a ladle and place them gently in the water making them cook for 5 minutes over low heat. Remove them with a slotted spoon, drain well and place them on spinach. Cover with the sauce, sprinkle with grated cheese and a few flakes of butter.
Place the baking dish on the top shelf of the oven at 240 ° C and cook for about 10 minutes.
Serve immediately in the same pan.