Tuscan frittata trippata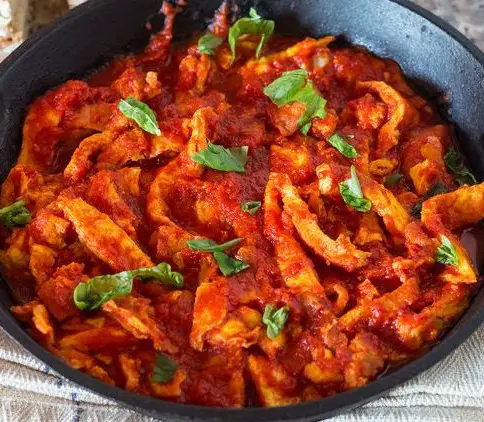 Ingredients for 4 people:
6 eggs
ripe tomatoes 350g
1 tablespoon of grated Parmesan cheese
1 stalk of celery
1 onion
1 bunch of basil
1 bunch of parsley
5 tablespoons of extra virgin olive oil
salt and pepper.
PREPARATION
Wash and dry parsley and basil and chop them finely.
Chop coarsely the celery and onion. Cook for a few minutes the tomatoes in boiling water, drain and remove skin and seeds and then chop them coarsely.
In a saucepan, heat 3 tablespoons of oil, then add the onion and celery and cook until will be golden brown.
Add the tomatoes, season with salt and pepper and continue cooking for 20 minutes, stirring occasionally.
Meanwhile, in a bowl, beat the eggs with a pinch of salt and pepper, then add the grated cheese, mix well and pour the mixture into a pan with 2 tablespoons of hot oil.
Spread the mixture well on the bottom of the pan and fry for 5 minutes over medium heat then turn over the omelette and cook for another 5 minutes then reduce the heat and cook on both sides for a further 5 minutes.
After this time, place the omelet on a dish and cut into strips that will add to the pan with the tomato sauce.
Sprinkle with chopped basil and parsley, mix well and cook for about 10 minutes.
Serve hot.