Capellini Capricciosi (Pasta with Bacon And Hot Peppers)
Capellini Capricciosi (Pasta with Bacon And Hot Peppers)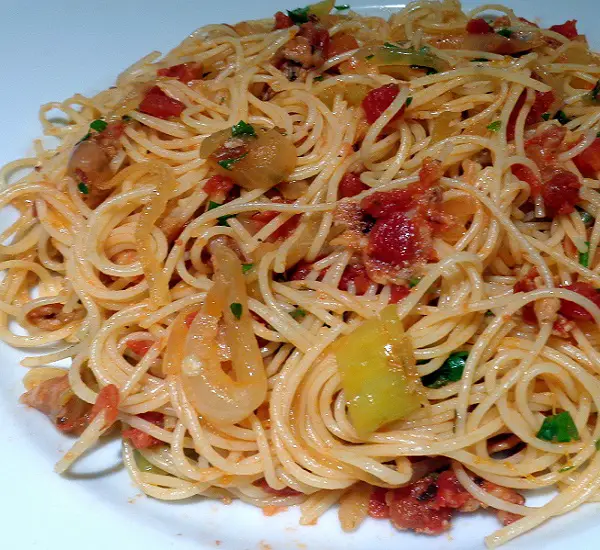 Ingredients:
 4 servings.
1/4 cup olive oil, divided use

6 slices smoky thick cut bacon, chopped

2 onions, thinly sliced

10 pepperoncini, drained, seeded and chopped

1 (35-oz.) can whole, peeled Italian tomatoes, drained and roughly chopped

1/2 teaspoon Kosher salt + salt to taste

12 ounces dried angel hair pasta

1 cup freshly grated Parmigiano Reggiano cheese

1/3 cup + 2 tablespoons chopped Italian parsley
Directions:
Heat 2 tablespoons oil in a large skillet set over medium heat.

Add bacon and cook until brown, about 10 minutes.

Add onions and cook until golden, about 15 minutes.

Add pepperoncini, tomatoes and salt and cook for 10 minutes longer

While sauce simmers, bring 4 quarts of salted water to a boil.

Add pasta and cook, per package directions, until al dente. Drain, reserving 1 cup of cooking water for sauce.

Toss pasta with reserved 2 tablespoons olive oil.

Stir into sauce with cheese and 1/3 cup parsley. If pasta appears dry, add some reserved cooking water.

Toss well to combine.

Transfer to warm serving bowl. Garnish with reserved 2 tablespoons parsley.