Caprese Pasta Salad with Grilled Eggplant
Caprese Pasta Salad with Grilled Eggplant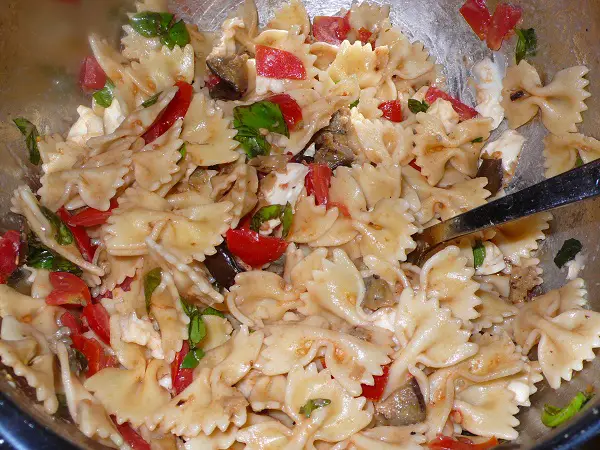 Ingredients
   medium sized fresh mozzarella or fior di latte

    2 cups cherry or grape tomatoes

    2 tbsp chopped basil

    3 tbsp extra-virgin olive oil

    grated cacio ricotta or ricotta salata

    1 lb farfalle
Directions
Fill a large pot with water for the pasta. Bring to a boil over high heat. Once the water starts to boil for the pasta add a small handful of salt to the water and bring to a rolling boil. Add the pasta and cook until al dente. When the pasta is perfectly al dente, drain the pasta in a colander, shaking out all of the excess water.

In the meantime, slice tomatoes into slivers and cut the grilled eggplant slices into cubes. Toss the tomatoes and the eggplant with the hot pasta so that the juices will keep it from sticking together.

Allow the pasta to cool, you could put it in the fridge, but the cold will change the consistency of the pasta. I usually set it out on my counter, covered with a plate for about an hour.

Cut the bocconcini into small pieces and slice the basil into slivers. When the pasta has cooled add to the pasta and toss, the olive oil will be the last thing that you add. When plated, sprinkle with grated cacioricotta and serve cold or at room temperature.