Roasted Cauliflower, Raisins and Anchovy Vinaigrette
Roasted Cauliflower, Raisins and Anchovy Vinaigrette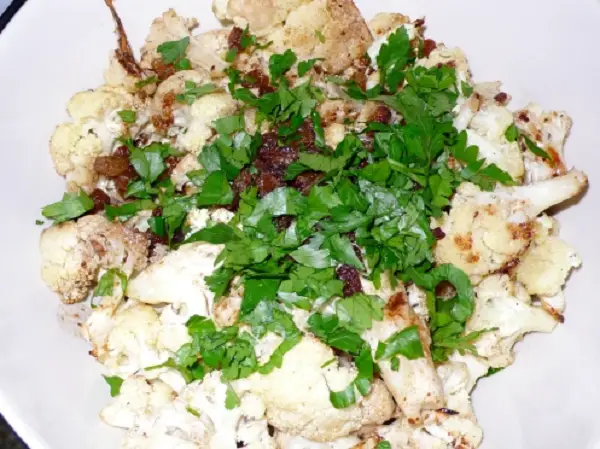 Ingredients
Yield 8 servings
    1 large cauliflower, cored, trimmed and separated into florets

    1/2 cup extra virgin olive oil

    Salt and freshly ground black pepper

    2 tablespoons sherry or balsamic vinegar, or to taste

    4 minced anchovy fillets, with a little of their oil, or to taste (I used 2 anchovies)

    1/2 cup raisins, preferably golden

    1/2 cup chopped fresh parsley leaves
Directions
Preheat oven to 400 degrees.

 Put cauliflower in roasting pan, drizzle with 3 tablespoons oil and some salt and pepper; toss. Roast, turning once or twice, for 15 minutes or so, until cauliflower just starts to soften.

Meanwhile, make vinaigrette by combining remaining oil with vinegar, anchovies and a little salt and pepper; taste and adjust seasoning.

Remove pan, drizzle cauliflower with 2 tablespoons of vinaigrette, and toss. Roast, turning once, until a thin-bladed knife pierces a piece with little resistance, for 15 minutes. (Recipe may be cooled at this point, covered tightly and refrigerated for 2 days.)

At last minute, put cauliflower in salad bowl and add raisins, parsley and remaining vinaigrette and toss.

Taste and sprinkle with salt, if needed, and lots of pepper, then serve.