Carluccio's Special from Carluccios Coal Fired Pizza
Carluccio's Special from Carluccios Coal Fired Pizza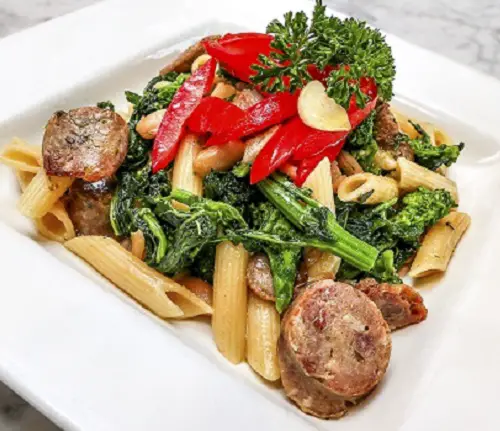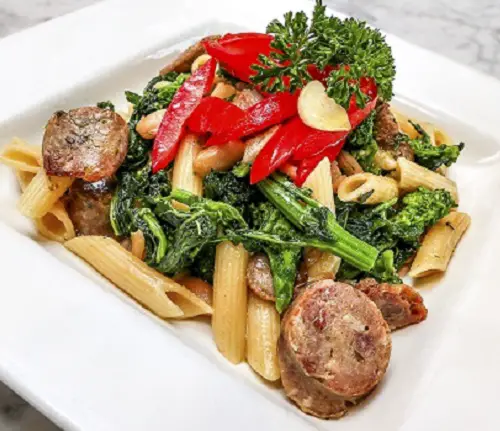 Ingredients
12 ounces broccoli rabe, tough ends trimmed and cut into 1 to 2-inch pieces
1 lb. your favorite pasta
3 Tablespoons extra-virgin olive oil, divided
8 ounces hot or sweet Italian sausage, casings removed
1 1/2 Tablespoons minced garlic
1/2 can (8 ounces) cannellini beans, rinsed and drained
1/3 cup grated Parmigiano Reggiano
Crushed red pepper flakes
Directions
1.       Bring a large pot of salted water to a boil over high heat. Add broccoli rabe and cook just until crisp-tender, about 3 to 4 minutes. Lift out of pot with a large slotted spoon or strainer. Set aside.
2.       Add pasta to same pot of water and cook as package directs. Reserving 1/2 cup pasta cooking water before draining.
3.       Meanwhile heat 1 Tablespoon oil in a large nonstick skillet over medium-high heat. Add sausage and cook, breaking up chunks with a wooden spoon, until browned, about 5 minutes.
4.       Stir in garlic and broccoli rabe and sauté 1 minute. Gently stir in beans and heat through.
5.       Add drained pasta, reserved cooking water, remaining 2 Tablespoons oil and Parmesan cheese
6.       Add salt to taste if desired and serve with additional Parmesan cheese and crushed red pepper flakes.
Carluccio's
1200 New Road
Northfield N.J. 08225
Tel: 609-641-4011
fax: 609-573-5580
Website: www.Carluccioscoalfiredpizza.com
Email: Carluccioscoalfiredpizza@gmail.com
Click to "Like" them on Facebook: Carluccios Coal Fired Pizza