Cavatelli with Cauliflower
Cavatelli with Cauliflower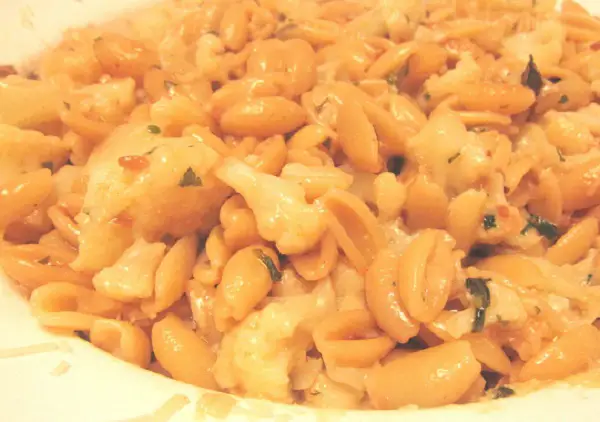 Ingredients:
Serves 6
½ teaspoon kosher salt, plus more for the pasta pot

½ cup extra-virgin olive oil

7 plump garlic cloves, peeled and sliced (or coarsely chopped)

½ teaspoon peperoncino flakes, or to taste (I used red chili pepper flakes)

½ cup cured black olives, pitted & coarsely chopped (my addition)

2 tablespoons chopped fresh Italian parsley

1 large head cauliflower, cut in small florets

1 batch (1½ pounds) Fresh Cavatelli or 1 pound dried pasta

1 cup freshly grated pecorino (or half pecorino and half Grana Padano or Parmigiano-Reggiano, for a milder flavor)
Directions:
Fill the large pot with salted water (at least 6 quarts water with 1 tablespoon salt), and heat to a boil. With the pasta water at a rolling boil, drop in the cauliflower florets, and cook them for about 3 minutes, until barely tender. Drop in the cavatelli, stir, and return the water quickly to a boil. Cook another 4 to 5 minutes, until the cauliflower is fully tender and the pasta is al dente (if you are using dried pasta, it will, of course, take longer). (Ruth's note: I used dried pasta and so I cooked the pasta and the cauliflower at the same time).

In the meantime, our the olive oil into the skillet, set over medium-high heat, and scatter in the sliced garlic. Let the garlic start to sizzle, then toss in the peperoncino/red chili pepper flakes, olives and parsley; stir and cook for a minute. Ladle in a cup of the pasta cooking water, stir well, and adjust the heat to keep the liquid in the skillet simmering and reducing gradually while you cook the cauliflower and pasta.

Lift out the florets and cavatelli with a spider or strainer, drain briefly, and spill them into the skillet. Toss well, to coat all the pasta and vegetable pieces with the garlicky dressing, then turn off the heat, sprinkle over the skillet the grated cheese, and toss again. Heap the cauliflower and cavatelli in warm bowls, and serve immediately.