Cavatelli with Sausage and Broccoli Rabe
Cavatelli with Sausage and Broccoli Rabe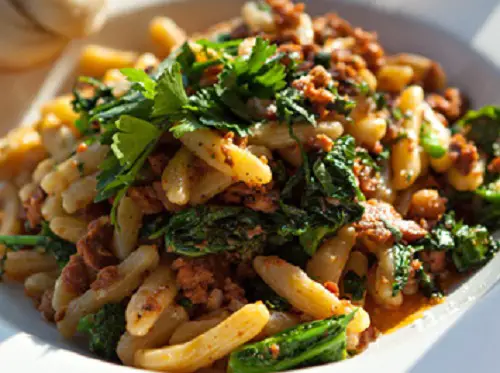 Ingredients
– 1 1/2 pounds of your favorite Italian Sausage

– 3 cups cleaned and chopped broccoli rabe

– 2 teaspoons hot chili pepper flakes (optional)

– 1 package cavatelli pasta

– 1/3 cup grated Parmigiano Reggiano or Pecorino Romano cheese

– 1/2 cup extra virgin olive oil

– 3 cloves garlic, peeled and chopped

– Salt and pepper
Directions
Prepare the water for the pasta according to the manufacturer's instructions.

In a large skillet over medium heat, add the olive oil, chopped garlic, pepper flakes and 1/4 cup of water. Sauté the garlic for 2 – 3 minutes until it becomes fragrant.

Remove and discard the casings from the sausage and add it to the pan. Using the back of a fork, mash the sausage to break it into small pieces. Once the sausage is broken up, sauté it until it begins to brown.

When the sausage has begun to brown, add the broccoli rabe to the pan along with 1/2 cup of water. Stir the ingredients to combine and then cover the pan and cook for 12 – 15 minutes or until the broccoli rabe is very tender. Add a small amount of water to the pan as necessary to keep the mixture moist.

As the water for the pasta begins to boil, add the pasta to the water and cook it according to the manufacturer's instructions.

Once the pasta is al dente, strain it from the water and add it to the pan with the sausage and broccoli rabe. Stir the mixture well to combine the ingredients.

If the mix is dry, add 1/2 cup of the pasta cooking water to the pan and stir again. Add the grated cheese to the pan, turn off the heat and stir the mixture several times until it begins to thicken slightly.

Remove the pan from the heat and plate the pasta in a serving dish. Top with additional grated cheese and a drizzle of olive oil to serve.