Caprese Stuffed Chicken Breasts
Caprese Stuffed Chicken Breasts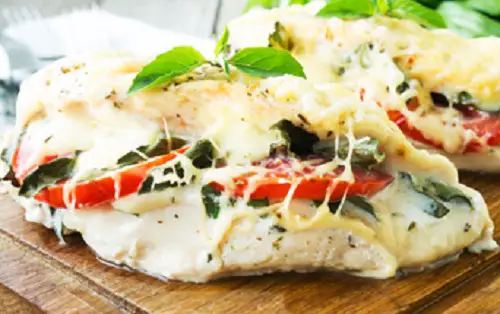 Ingredients
– 4 medium boneless, skinless chicken breasts

– 2 medium ripe tomatoes, sliced

– 8 to 12 large basil leaves

– 8 ounce ball of fresh mozzarella cheese sliced into 4 rounds

– 2 cloves garlic, peeled and cut into 3 pieces

– 2 sprigs rosemary

– 2 medium bay leaves

– 1/4 cup white wine

– Extra virgin olive oil

– Salt and pepper
Directions
Preheat your oven to 425 degrees.

Rinse the chicken breasts and, with a sharp knife, slice them until you can open each breast like a book.

Rub each of the chicken breasts inside and out with a generous drizzle of olive oil. Sprinkle a pinch of salt and pepper inside each opened breast.

In each opened breast, first place the slice of mozzarella cheese. Then add 2 to 3 basil leaves on top of the mozzarella. Finally, place 2 – 3 slices of tomato on top of the basil leaves.

Close each of the breasts and secure them with one or two toothpicks. Season the tops of the breasts with a pinch of salt and pepper.

In an oven safe baking dish or sheet pan, add the white wine and 1/4 cup of olive oil. Place the stuffed chicken breasts into the dish.

To the dish, distribute the garlic pieces, bay leaves and rosemary around the chicken breasts in the pan.

Cover the dish with aluminum foil and place the dish on the bottom rack in the oven. Bake for 30 minutes.

After 30 minutes, uncover the dish and bake another 5 – 10 minutes or until the chicken begins to brown on the top.

Remove the chicken from the oven and let it cool for 10 minutes prior to serving.