Maritozzi Roman Breakfast Pastries
Maritozzi  Roman Breakfast Pastries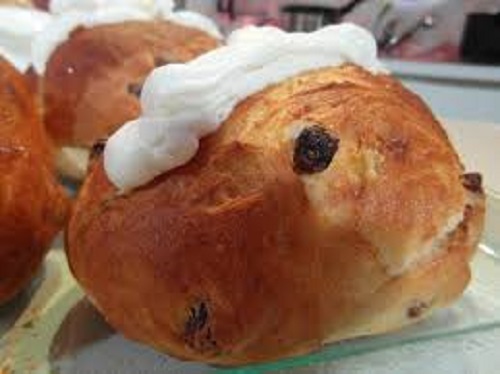 These typical Roman delicious brioche-like buns are offered for breakfast in all bars in the Eternal City and in bars in the region of Latium; they are filled with whipped cream and served next to a steaming and fragrant cappuccino.
Maritozzo, meaning little husband was the dialectal, confidential and charming way to address in a lovely tone the husband, in Italian marito.
There is also, a popular legend in reference to the maritozzi that in old times one of the necessary requirements for girls looking for a husband was the ability to bake good buns: hence because these pastries would bring in a successful marriage and a marito the name morphed into the affective word maritozzo.

INGREDIENTS 
Makes 24 Maritozzi
1 lb. & 10 oz. unbleached all purpose flour – Divided

½ cup of milk or ½ pint

2 oz. fresh active yeast

5 oz. sugar

2 oz butter, at room temperature or 6 tablespoons of oil

3 medium eggs

2 egg yolks

1¼ cup water (more or less)

¾ lb. raisins, washed, soaked and drained

Peels of 2 oranges

2 teaspoons of salt

Extra flour to add and to dust

Egg wash. 1 egg beaten with 2 tablespoons of water
PREPARATION 
The Starter for the Dough 
In a small bowl dissolve ¼ of a cup of warm water with the yeast. In a larger bowl mix the sugar and 1 cup of the weighted flour, add the milk and the yeast mixture; combine until it is well blended and a soft dough is obtained. If it is too dry add some water (no more than ¼ of a cup), if it is too watery add some of the flour (no more than 2 oz.).

Make a ball and with a sharp knife make a cut crosswise on the top to facilitate the dough to rise; cover and set aside in a warm place until it almost doubles in size, 1 to 2 hours.
TheOrange Peels 
Prepare the orange peels: rinse with cold water, dry and bake at 375 degrees for 15 minutes. When cooled, cut them with scissors into thin strips and finely dice them.

In a medium size pot without a cover, at a medium heat place the diced orange peels, one tablespoon of water and one tablespoon of sugar; bring to a boil, remove from heat and keep on the side. 

The Dough 
Place into the mixer the remaining flour and the starter, use the paddle and start to mix at a slow speed.

Add the eggs, 1 at a time, and wait until each additional egg is absorbed into the dough, before adding more.

Add the butter, a small piece at a time and wait until each piece is absorbed into the dough, before adding more.

Add half of the remaining water and the salt; increase the speed to a medium and beat for 3 minutes.

At the beginning the dough will appear crumbled and sticky but as it kneads, add as much as needed of the remaining water, until the mixture will turn into shiny and elastic dough.

Scrape the dough from the side and bottom of the bowl and change the paddle to a dough hook. At a medium speed, knead dough and after a while the dough will pull away from the side and bottom of the bowl and it will be soft and satin.

Total time to mix the dough should be about 15 minutes.

Remove the hook, transfer the dough into a floured bowl and let it rest covered in a warm place for about 2 hours: dough should almost double in size.

The Maritozzi 
Transfer the dough onto a floured surface add and mix in the raisins and the orange peels, then divide it into 4 pieces.

One piece at a time, knead it briefly and divide it into 6 pieces; use dusting flour if dough is too sticky. Repeat until you finish all dough and at the end you will have a total of 24 pieces of dough.

Briefly knead a piece of dough at a time, shape with your hands into a ball, then form an oval roll and place into the baking pan greased or lined with parchment paper 3 inches apart; gently press down each piece with your hands to lightly flatten them.

Cover with parchment paper or plastic sheet and let it rise again for about 45 minutes.

Brush the maritozzi with the egg wash and bake at 400 degrees for 10 to 12 minutes.

Check after 8 minutes and if they are baking too fast, tent with aluminum foil and bake until golden brown.

Serve the maritozzi stuffed with whipped cream and a cappuccino on the side.