Baked Vegetables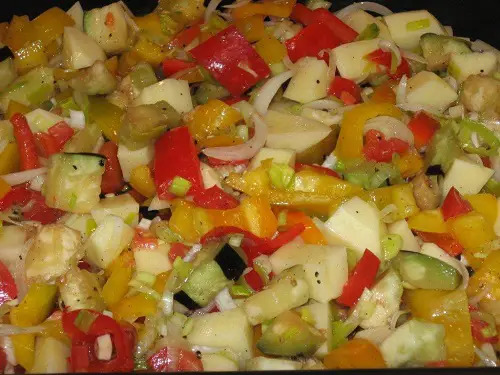 INGREDIENTS  
SERVES 4 TO 6
3 medium onions, peeled and diced

2 yellow or red peppers. Remove seeds and cut into wedges

4 medium tomatoes, some skin and seed removed, cut in chunks

3 medium potatoes, peeled and diced in ¾ inch pieces

1 ½ lb. baby eggplant or Sicilian eggplant, peeled and diced

5 tablespoons olive oil

salt and pepper

heavy duty pan 10 X 12, 2 inches high
PREPARATION
The Vegetables
Wipe the vegetables clean, cut them and place in a large bowl.

Sprinkle 4 tablespoons of olive oil over and add salt and pepper to taste.

Mix gently to coat the vegetables well.
The Assembly
Make sure you use a heavy duty pan to insure good results.

Lightly brush the pan with the remaining oil and pour the vegetables into it.
The Baking
Cover loosely with aluminum foil.

Bake at 400 degrees covered for 30 minutes.

Uncover and continue baking at 400 degrees for 15 minutes.