SICILIAN MEATLOAF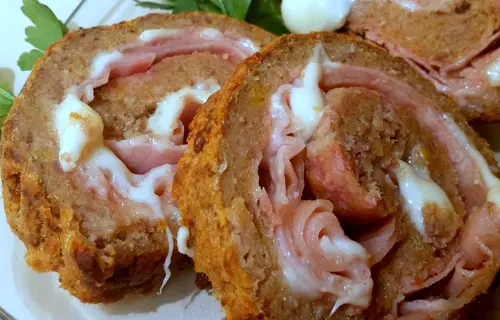 Serves 4 to 6
Ingredients:
For the Meat Mixture
2 lb of chopped meat
2 eggs lightly beaten
1 cup breadcrumbs
½ cup of your preferred grated cheese
½ cup milk
½ small onion minced
1 clove minced garlic
½ cup tomato sauce (optional)
2 tablespoons raisins
2 tablespoons Pinoli nuts
¼ cup chopped parsley
Salt and pepper to taste
Some oil to spread on aluminum foil
For the Stuffing
4 slices of Provoletta or American cheese
3 oz . Provolone cheese, diced
2 hard boiled eggs, sliced
4 oz. of your preferred salami or ham, sliced
4 oz. frozen peas, cooked as per directions
2 roasted red peppers or pimento cut in strips
For the Sauce
2 tablespoons of oil
1 oz. butter
½ medium onion, minced
12 oz sliced mushrooms or 8 oz of frozen peas
¼ cup of chopped parsley
salt and pepper to taste
½ cup mixture of water and wine or Marsala (optional) mixed in equal proportions
some parsley to garnish
Preparation
The Meat
In a large bowl combine ground beef and all the ingredients. Mix well until the combination is homogenous.
The Loaf
Coat a sheet of aluminum foil with oil, place it in a 13" X 9" baking pan and spread meat mixture on it, in a rectangular form about 8" X 12", making it thicker in the center and thinner on the sides.
On the longer side, place the sliced cheese in the center, spreading it lengthwise. On top of it, covering the whole length put the sliced eggs than the diced Provolone, salami or ham, peas and the red pepper or pimento.
With the help of the foil paper roll one side of the meat on top of the stuffing and then roll the other side on top of it. Wet your hands with oil and shape it to form a loaf in the shape of salami.
Wrap it with the aluminum paper and bake at 400 degrees for 30 minutes.
The Sauce
Over a medium heat, in a 2 quart saucepan combine the oil, butter, onions and sauté until translucent. Add mushrooms or peas, salt and pepper to taste and cook for 3 minutes stirring occasionally. Add water and wine mixture, reduce a few minutes, add parsley and simmer for additional 5 minutes.
The Serving
Cool meatloaf a few minutes, unwrap, cut it in 3/4 to 1 inch slices and place in a serving dish. Cover with mushroom or pea sauce and garnish with parsley.