Cherry Slab Pie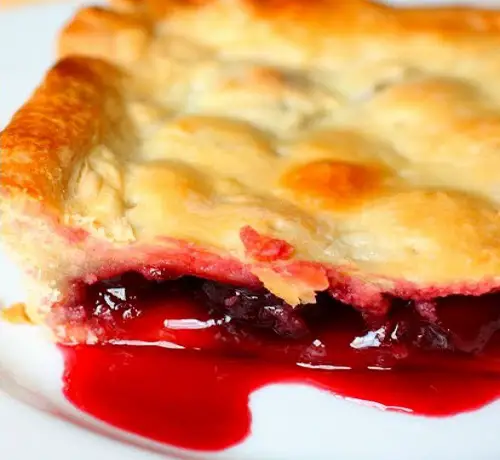 Ingredients:
for the Pie Dough (pâte brisée)
3 ¾ cups all purpose flour

2 ½ teaspoons coarse salt

1 ½ teaspoons sugar

3 sticks unsalted butter, cold, cut into pieces

½ cup ice water
Instructions:
Place the flour, salt and sugar in the bowl of a food processor and pulse to combine.  Add the butter and pulse until the mixture resembles coarse crumbs, about 10 seconds.

With machine running, slowly pour the ice water through the feed tube until the dough just comes together in a ball.

Divide the dough into two pieces, one slightly larger than the other.  Flatten a little, dust with flour and wrap the dough in plastic wrap and refrigerate at least one hour or overnight.
For the Pie Filling
Ingredients:
2 ½ pounds (about 6 cups) fresh cherries, pitted, or 2 ¼ pounds (about 6 cups) of fresh blueberries

1 ¼ cups granulated sugar

¼ cup cornstarch

juice of ½ lemon

¼ teaspoon salt
Instructions:
Combine all ingredients in a large bowl, stir to combine, set aside.
for the Glaze:
2 tablespoons heavy cream

¼ cup sanding sugar or granulated sugar
To make the pie:
Preheat the oven to 375 degrees.

On a lightly floured surface, roll out the larger piece of dough into a rectangle, a little bit larger than your baking sheet.

The original recipe calls for a 15×10 baking sheet, but I used a 13×10 quarter sheet pan.

To make this easier, place a piece of plastic wrap on your working surface, dust with flour.

Place pie dough on top, dust with flour and place another sheet of plastic wrap on top.

When your dough is the right size, lay your rolling pin on top of the top sheet of plastic wrap.

Start rolling the dough around the rolling pin, leaving the bottom sheet of plastic wrap on your working surface.

 Dust the dough around the rolling pin as you go, so it will not stick to itself.

 Lift rolling pin over your baking sheet on one end and unroll dough.

 Remove plastic wrap from top.

Fit into your rimmed baking sheet, pressing into corners (pastry will hang over sides).

Spread filling into pie shell.

On a lightly floured surface, roll out remaining piece of dough to the size of your pan.  Using same method as above, drape dough over filling.  Fold edge of bottom dough over top dough. Pinch edges to seal  Prick the top dough all over with a fork.  Brush the entire surface of the pie with the cream and sprinkle with the sugar.

Bake until crust is golden brown about 40 to 55 minutes.  Transfer to a wire rack to cool just until the pie is still warm to the touch.  Serve warm or a room temperature.  Cut into 12 pieces.

Slab pie can be kept at room temperature, loosely covered with plastic wrap, for up to 2 days.
Make ahead tip:
You can make this pie in the morning and then stick it in the fridge.  When it comes time to bake it, there is no need to bring it to room temperature.  Just pop it in the oven.