Chicken and Artichoke Soup
Chicken and Artichoke Soup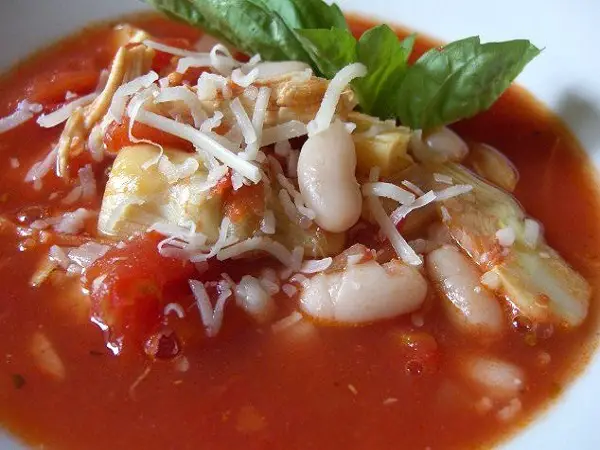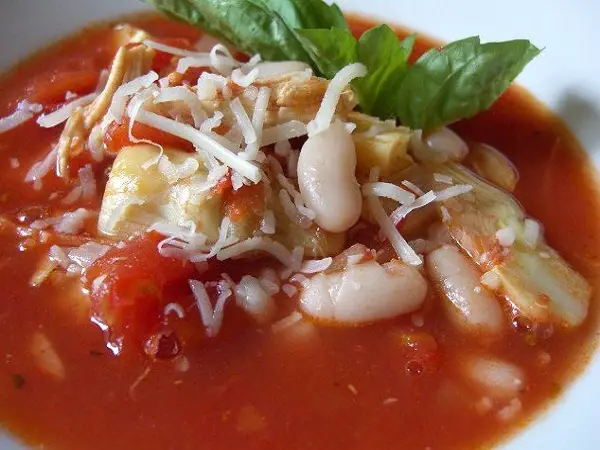 Ingredients
3 tablespoons olive oil

3 cups yellow onions, chopped

4 garlic cloves, chopped

1/2 cup white wine

2 14-ounce cans of artichoke hearts, drained and quartered

1/4 cup sun dried tomatoes, chopped

1 28-ounce can crushed tomatoes

1 28-ounce can whole peeled tomatoes in puree

1/2 teaspoon pepper

1 teaspoon salt

1 teaspoon oregano, dried

6 cups chicken broth

1 cup beef broth

2 15-ounce cans of cannellini beans, drained

3 bone-in chicken breasts, cooked and shredded

About 20 basil leaves, chopped

Dash of red pepper flakes

Parmesan cheese, grated
Directions
In a large pot, heat the olive oil and add the onions.

Sauté for about 10 minutes.

Add the garlic and cook for about 1 minute.

Add the wine and cook for an additional 2 – 3 minutes.

Add the artichoke hearts, the three types of tomatoes, pepper, salt, oregano, and both broths.

Bring to a boil then reduce heat and simmer for 10 minutes.

Add the cannellini beans, chicken, basil, and red pepper flakes to taste. Simmer for an additional 10 minutes.

Serve with a sprinkle of Parmesan cheese on top.