Tuscan Steak with Escarole and Beans
Tuscan Steak with Escarole and Beans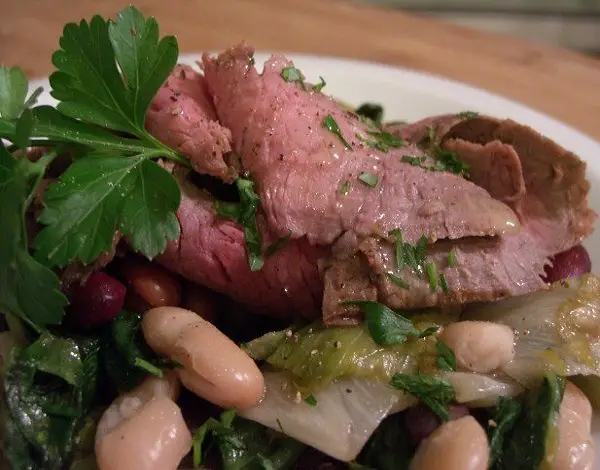 Ingredients
Serves 4 – 5
1 1/2 pounds of flank steak

1/3 cup olive oil

1/4 cup sherry vinegar

1 tablespoon tomato paste

2 garlic cloves, chopped

1 teaspoon ground sage

2 teaspoons dried oregano

1 teaspoon salt

1/2 teaspoon pepper

Olive oil

1 head escarole, washed, drained and chopped in bite-sized pieces

1 cup kidney beans

1 cup pinto beans

Salt

Pepper

Chopped parsley for garnish
Directions
In a small mixing bowl, combine olive oil, sherry vinegar, tomato paste, garlic, sage, oregano, salt and pepper.

 Place steak in a resealable bag and add marinade. Let marinate for about an hour or up to 24 hours.

Preheat oven to 450 degrees.

Remove steak from marinade and place on a baking sheet.

Roast in oven for about 8 – 9 minutes. Turn steak over and continue cooking for an additional 4 – 5 minutes. The internal temperature of the steak should be between 120 and 125 degrees.

Remove steak from oven and cover with foil. Let steak rest for 10 – 15 minutes.

Meanwhile, heat a large saute pan to medium high and add about 1 tablespoon of olive oil.

Add the escarole and saute for about 4 – 5 minutes.

Add the beans and heat through.

Season with salt and pepper.

To serve, thinly slice steak against the grain.

Place escarole and beans on a platter and top with steak.

Pour any accumulated pan juices over the top and sprinkle with parsley.