Creamy Lemon Chicken with Roasted Potatoes and Artichokes
Creamy Lemon Chicken with Roasted Potatoes and Artichokes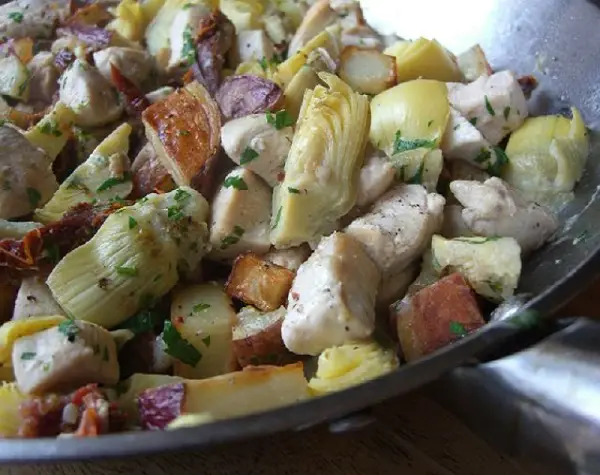 Ingredients
Serves 5
5 red potatoes, cubed, bite-sized

2 – 3 tablespoons olive oil

Salt

Pepper

1 (15-ounce) can artichoke hearts, quartered and drained

4 boneless skinless chicken breasts, cubed

1/4 cup white wine

1/3 cup cream

1/2 cup chicken stock

4 sun dried tomatoes, soaked in boiling water to rehydrate, and sliced thin

juice of 1/2 lemon

2 tablespoons of chopped fresh parsley

1/4 cup Parmesan cheese, shredded
Directions
Preheat oven to 425 degrees.

On a large rimmed baking sheet, toss potatoes with olive oil, 1/2 teaspoon of salt, and 1/2 teaspoon of pepper.

Roast for about 25 minutes, stirring once, until beginning to become golden brown.

Add artichoke hearts and roast an additional 20 minutes. Remove from oven and set aside.

Meanwhile, in a large saute pan over medium high heat, drizzle 2 tablespoons of olive oil and add the chicken. Saute for 6 – 7 minutes or until chicken to cooked through.

Add wine and cook for 1 minute.

Add the cream and chicken stock and let reduce for 3 – 4 minutes.

 Add roasted potatoes and artichokes, sun dried tomatoes, lemon juice, parsley, Parmesan cheese and toss to coat.

Season with salt and pepper.

Serve.