Spinach and Parmesan Stuffed Flank Steak
Spinach and Parmesan Stuffed Flank Steak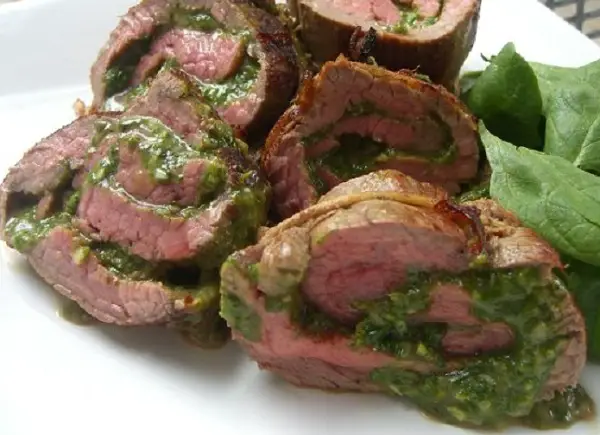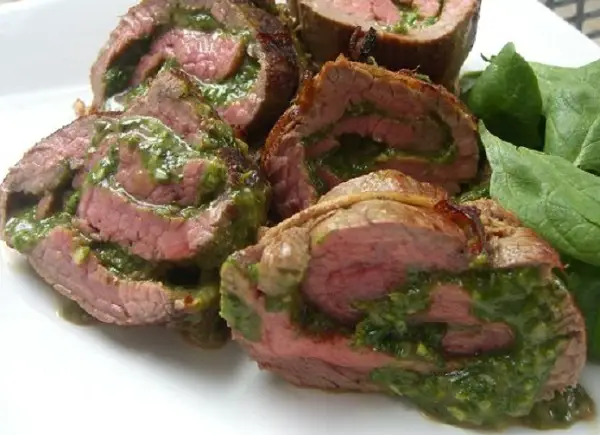 Ingredients
Serves 4 to 5
3 cups baby spinach

1/3 cup chopped onion

1 clove of garlic

1 1/2 cups grated cheese, a combination of Parmesan, mozzarella, and asiago

1 teaspoon dried oregano

1/2 teaspoon salt

1/4 teaspoon pepper

1 (1 1/2 – 2 pound) flank steak

A-1 Steak Sauce or barbecue sauce
Directions
Preheat oven to 425 degrees.

In a food processor, pulse the spinach, onions, and garlic.

Add the cheeses, oregano, salt and pepper and pulse until just combined.

Butterfly the steak and open it like a book. The steak should be about 1/2 inch thick.

Spread the spinach and cheese mixture to within about 1 inch of the edges.

Roll up the steak jelly roll style and tie at 2 inch intervals with kitchen twine.

Add about 2 tablespoons of olive oil to an ovenproof saute pan over medium high heat. Saute the steak in the pan until brown on all sides, about 8 – 10 minutes.

Brush the steak with the A-1 Steak Sauce and transfer to the oven. Roast for about 15 minutes.

Turn the steak over, baste again with the sauce and roast an additional 10 minutes or until 125 – 130 degrees for medium rare.

Remove from pan and place on a cutting board.

Tent with foil and let rest for about 5 – 10 minutes.

Slice in rounds with a sharp knife and serve.