Maple Glazed Brussels Sprouts with Pancetta
Maple Glazed Brussels Sprouts with Pancetta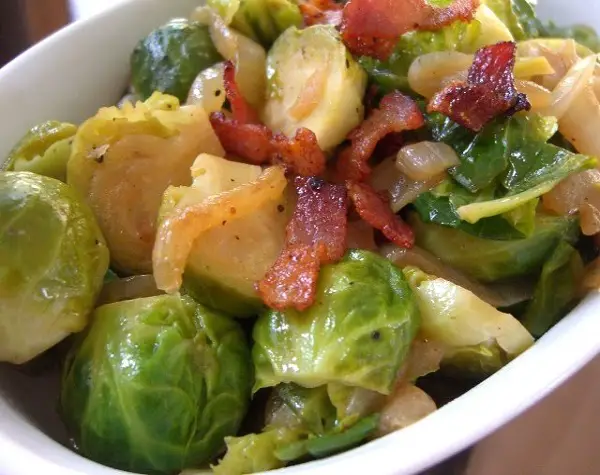 Ingredients
Serves 6
4 slices of Pancetta, chopped

Olive oil

1 large sweet onion, thinly sliced

About 2 pounds Brussels sprouts, cleaned, small ones left whole and large ones halved

1/3 cup chicken broth

2 tablespoons maple syrup

2 teaspoon Dijon mustard

Salt and pepper to taste
Directions
In a large saute pan over medium high heat, cook Pancetta until crisp. Remove Pancetta from pan and drain on paper towels.

Add enough olive oil to the pan along with the Pancetta drippings to equal about 2 tablespoons.

Add onion and saute until just beginning to brown, about 8 – 10 minutes.

Add the Brussels sprouts and saute for about 2 – 3 minutes.

 Add the broth, maple syrup, and Dijon mustard and stir to combine.

Reduce the heat to medium low.

 Cover and cook for about an additional 8 – 10 minutes or until the Brussels sprouts are tender.

Season with salt and pepper and top with the cooked Pancetta.