Chicken Asparagus Lasagna
Chicken Asparagus Lasagna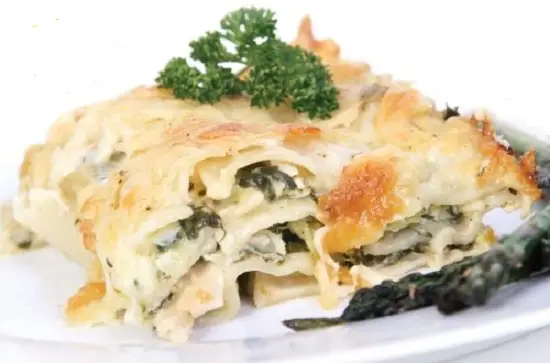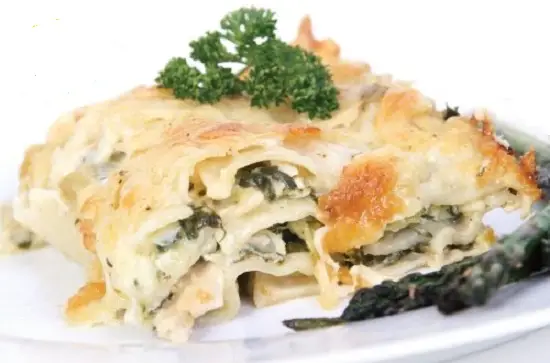 INGREDIENTS
Serves 6 to 8 people
1 bunch of asparagus, cut into pieces

3 boneless chicken breasts, cut into pieces

1/2 tsp of salt

1/2 tsp of fresh ground black pepper

1 bunch of long green onions, chopped

2 cloves of garlic, chopped

3 Tbls of butter

1 Tbls of extra virgin olive oil

1/2 cup of flour

2 cups of milk

2 cups of chicken broth

1 tsp of dried thyme

1/4 tsp of fresh grated nutmeg

1/4 cup of fresh parsley, chopped

12 lasagna noodles

1/2 pound of asiago cheese, shredded !/2 pound of mozzarella cheese, shredded

1/4 pound of Monterey jack cheese, shredded
PREPARATION
Blanch the asparagus in boiling water and set aside in an ice bath.

Season the chicken with salt and pepper.

Sauté the chicken, garlic and onions in the butter and olive oil until chicken is browned and the garlic and onions are slightly tender.

Stir in the flour.

Slowly stir in the milk and broth until the mixture thickens.

Season with thyme , nutmeg and parsley.

In 6 quarts of salted boiling water cook the lasagna noodles until al dente.

Rinse the lasagna with cold water and coat with a little olive oil to prevent them from sticking together.

Pre-heat the oven to 350 degrees.

Rub the bottom of a baking dish with a little oil.

Place a layer of lasagna on the bottom of the baking dish.

Add a layer of chicken and asparagus.

Top with the cream mixture.

Sprinkle the top with the three cheeses.

Repeat with another layer of lasagna, chicken cream mixture, asparagus, and cheese.

Place a top layer of lasagna and add a little more sauce and cheese.

Bake uncovered for around 30 minutes until heated through.