Chicken Breasts Stuffed with Artichokes, Lemon and Goat Cheese
Chicken Breasts Stuffed with Artichokes, Lemon and Goat Cheese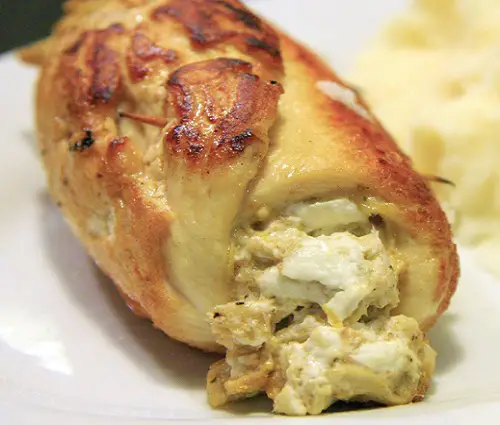 Ingredients
2 1/2 tablespoons Italian-seasoned breadcrumbs

2 teaspoons grated lemon rind

1/4 teaspoon salt

1/4 teaspoon freshly ground black pepper

1 6-ounce jar marinated artichoke hearts, drained and chopped

1 3-ounce package herb goat cheese

4 6-ounce skinless, boneless chicken breast halves

Cooking spray or olive oil
Directions
1. Preheat oven to 375º.
2. Combine first 6 ingredients; stir well.
3. Place each chicken breast half between 2 sheets of heavy-duty plastic wrap; pound to 1/4-inch thickness using a meat mallet or rolling pin. Top each breast half with 2 tablespoons cheese mixture; roll up jelly-roll fashion. Tuck in sides, and secure each roll with wooden picks.
4. Heat a large nonstick skillet coated with cooking spray or olive oil over medium-high heat. Add chicken to pan, and cook for 3 minutes on each side or until browned. Wrap handle of pan with foil, and bake for 15 minutes or until chicken is done.