Shrimp Lasagna Rolls with Creamy Marinara
Shrimp Lasagna Rolls with Creamy Marinara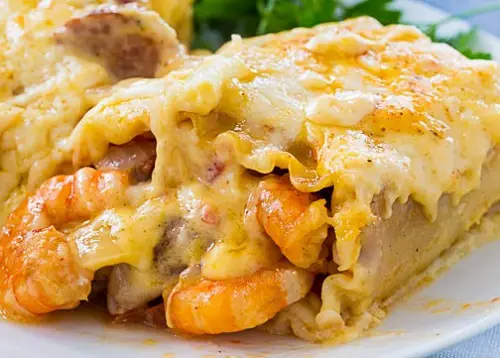 Ingredients
1 pound lasagna

3 tablespoons olive oi

1 pound large shrimp, peeled and deveined

Salt and freshly ground black pepper

3 garlic cloves, chopped

1/2 cup red onion, choppe

2 15-ounce containers whole-milk ricotta cheese

1/2 cup freshly grated Parmesan cheese

2 eggs, lightly beaten

1/4 cup chopped fresh basil

1/4 teaspoon freshly grated nutmeg

3 cups marinara sauce

1 1/2 cups grated mozzarella cheese (about 5 ounces)
Directions
1. Preheat the oven to 350º.
2. Bring a large pot of salted water to a boil over high heat. Add the pasta and partially cook until tender but still firm to the bite, stirring occasionally, 6-8 minutes. Drain.
3. Meanwhile, heat the olive oil in a large skillet over medium heat. Season the shrimp with salt and pepper. Add the shrimp, the garlic and the onion to the pan and saute until the shrimp are cooked, about 4 minutes, stirring often. Remove from heat and let cool. Coarsely chop the cooled shrimp and place in a large bowl with 2 cups of the ricotta cheese (one container and about 1/3 of the other), the Parmesan cheese, eggs, basil, 3/4 teaspoon salt, 1/4 teaspoon pepper, and the nutmeg. Stir to combine.
4. In another bowl, combine the marinara sauce with the remaining 1 cup of ricotta cheese and stir to combine.
5. To make the lasagna rolls, cover the bottom of a 9 x 13-inch baking dish with 1 cup of the marinara mixture. Lay four noodles flat on a dry work surface. Spread about 1/4 cup of the shrimp mixture evenly over each noodle. Roll up and place seam side down in the baking dish. Repeat twice more to make 12 lasagna rolls. Drizzle the rolls with the remaining marinara mixture and top with grated mozzarella. Bake until the lasagna rolls are heated through and the cheese is beginning to brown, about 25 minutes.