Chicken & Butternut Squash Risotto Bake
Chicken & Butternut Squash Risotto Bake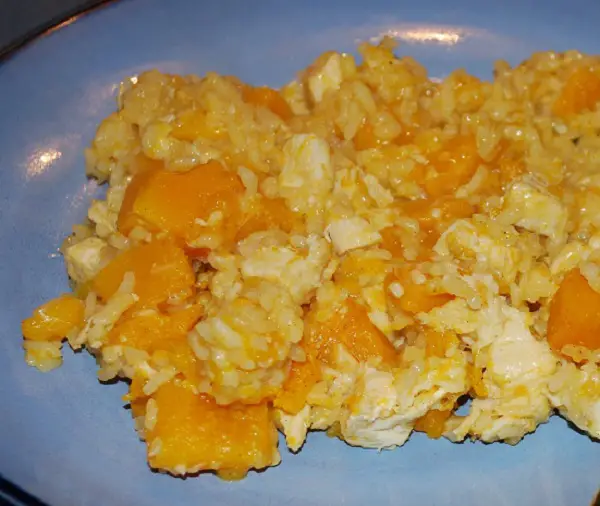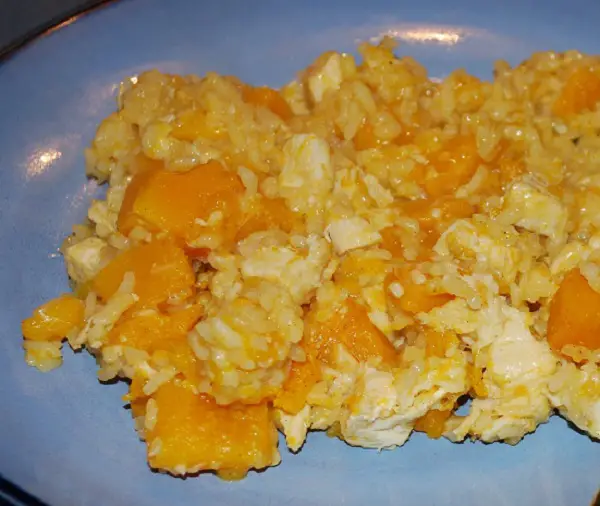 Ingredients
1 large butternut squash

2 cups chicken broth

1 cup water

1/4 cup dried minced onion

2 garlic cloves, minced

1 cup uncooked Arborio or other short-grain rice

1/4 cup dry white wine

1 vanilla bean, cut in half & seeds scraped

1/2 teaspoon salt

1/4 teaspoon black pepper

2 chicken breasts, cooked & chopped

Cooking spray

1/4 cup (1 ounce) grated fresh Parmesan cheese
Directions
Preheat oven to 350°. Cut squash in half lengthwise. Scrape out and discard seeds. Bake for 30 minutes. Peel and cube squash. Gently toss with vanilla bean seeds.

Increase oven temp to 400.

Bring broth & water to a simmer in a medium saucepan. Heat oil in a large nonstick skillet over medium-high heat. Add onion, garlic, add rice; sauté 3 minutes. Stir in squash, chicken, broth mixture, wine, salt, and pepper; cook 5 minutes, stirring occasionally.

Place rice mixture in a 13 x 9-inch baking dish coated with cooking spray.

Bake at 400° for 30 minutes. Stir mixture gently. Sprinkle with cheese; bake an additional 5 minutes or until cheese melts.