Chicken Cutlets with Asparagus, Spring Onions, and Gremolata
Chicken Cutlets with Asparagus, Spring Onions, and Gremolata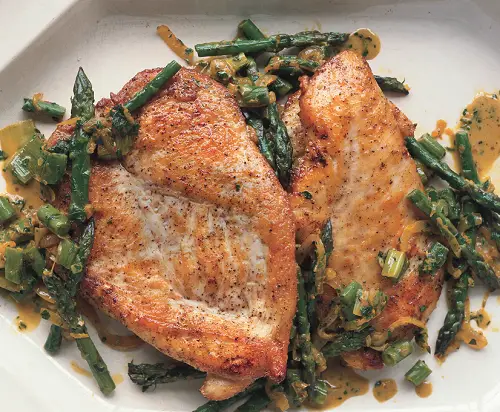 Ingredients:
Serves 6.
For the Gremolata:
1/4 cup finely chopped fresh Italian parsley

1 tablespoon finely chopped fresh tarragon

1 tablespoon minced shallot

2 teaspoons finely grated orange peel

1/2 teaspoon finely grated lemon peel
For the Chicken:
12 chicken cutlets (1/4 to 1/2 inch thick; about 2 pounds)

3/4 pound spring onions or green onions (dark green parts discarded);

1 and 1/2 pounds slender asparagus, tops cut into 3-inch pieces, stems cut into 1/2-inch pieces

3/4 cup chicken broth

1/4 teaspoon (scant) saffron threads

Coarse kosher salt

2 tablespoons (or more) extra-virgin olive oil, divided

1 tablespoon butter

2 tablespoons creme riche or heavy whipping cream
Directions:
Cut the white parts of the onions into 1/4-inch-thick slices, and the pale green parts cut into 1/2-inch-thick slices (scant 2 cups).

Mix first 5 ingredients for the gremolata in a small bowl.

Cover the gremolata and set aside.

Heat heavy large skillet over medium-high heat.

Add saffron and stir until slightly darker, about 30 seconds.

Transfer to another small bowl; cool and crumble saffron.

Sprinkle chicken lightly with coarse salt and pepper.

Heat 1 tablespoon olive oil in heavy large skillet over medium-high heat.

Working in batches and adding more olive oil as needed.

Cook chicken until lightly browned and just cooked through, about 2 minutes per side.

Arrange chicken on platter; tent with foil.

Add 1 tablespoon olive oil and butter to same skillet.

Add white and green parts of onions and saute until beginning to soften, about 4 minutes.

Add asparagus.

Sprinkle saffron over vegetables.

Sprinkle with coarse salt and pepper and saute 1 minute.

Add broth, reduce heat to medium, and simmer uncovered until vegetables are tender and broth reduces and thickens to glaze, about 5 minutes.

Stir in creme riche and gremolata.

Season with salt and pepper.

Using slotted spoon, transfer vegetables to platter, arranging around chicken.

Drizzle sauce over chicken and serve.