Ricotta and Arugula Calzones
Ricotta and Arugula Calzones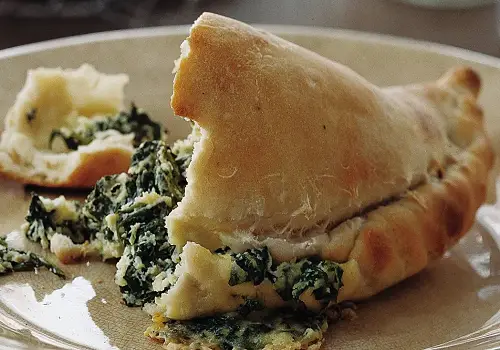 Ingredients:
Makes 4 servings.
1 large garlic clove, minced

2 tablespoons extra-virgin olive oil

5 oz baby arugula (8 cups packed)

6 oz whole-milk ricotta (2/3 cup)

3 oz whole-milk mozzarella, coarsely grated

2 tablespoons finely grated Parmigiano-Reggiano cheese

1 large egg yolk

1/4 teaspoon salt

1/8 teaspoon black pepper

1 lb frozen pizza dough, thawed

An oiled 17 by 12-inch heavy baking sheet
Directions:
Put oven rack in lower third of oven and preheat oven to 450°F.

Cook garlic in olive oil in a 12-inch heavy skillet over moderate heat, stirring frequently, until golden, 1 to 2 minutes.

Add arugula and cook, stirring frequently, until wilted, 2 to 3 minutes.

Transfer to a sieve and press hard on arugula to squeeze out as much excess liquid as possible, then coarsely chop.

Stir together ricotta, mozzarella, Parmigiano-Reggiano cheese, yolk, salt, and pepper until blended, then stir in arugula.

Quarter dough, then roll out each piece into an 8-inch round with a rolling pin.

Put one fourth of cheese filling (about 1/3 cup) in center of 1 round and fold dough in half to enclose filling and form a semicircle.

Press edges together to seal.

Beginning at 1 end and working toward the other, stretch sealed edge outward, pinching and rolling edge to form a rope.

Transfer to baking sheet.

Make 3 more calzones in same manner, transferring to baking sheet.

Bake calzones until golden and puffed, 12 to 15 minutes.

Cool on baking sheet 5 minutes before serving.