Chicken Parmesan  "Chicken Parmigiana"  Chef Pasquale Sciarappa 
Chicken Parmesan 
"Chicken Parmigiana" 
Chef Pasquale Sciarappa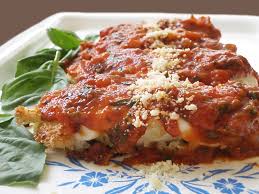 Chicken parmigiana, or chicken parmesan (Italian Pollo alla parmigiana) (also referred to colloquially in the United States as 'chicken parm' and in Australia as a 'parmy', 'parmi' or 'parma'), is a popular Italian-American dish. It consists of a breaded chicken breast topped with tomato sauce and mozzarella, parmesan or provolone cheese.

A slice of ham or bacon is sometimes added, but not all chefs are in agreement with the addition of pork. It has been speculated that the dish is based on a combination of the Italian melanzane alla Parmigiana, a dish using breaded eggplant slices instead of chicken, along with the cotoletta (the latter generally served without sauce or cheese in Italy).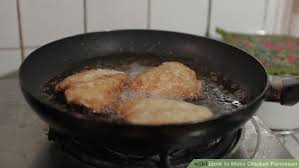 Chicken parmigiana is included as the base of a number of different meals, including sandwiches and pies, and the meal is used as the subject of eating contests at some restaurants.
In the United States and Canada, chicken parmigiana is often served as an entree, and sometimes with a side of or on top of pasta.
Many restaurants also offer chicken parm sandwiches. Upon arriving in America, Italian immigrants began to take advantage of America's affordable meat market, incorporating chicken into the Parmigiana.
A recipe for chicken parmigiana was published in The New York Times in 1962. The New York Public Library has in their collection a menu from New York City Italian restaurant that has been in the same location since 1906 which shows that chicken parmigiana was being offered in 1958. In the same collection at the New York Public Library, there is a menu from a restaurant on board an ocean liner of the Italian Line that crossed the North Atlantic between North America and Europe and had offered Petti Di Pollo Alla Parmigiana in 1956.
There is a recipe that was published in the 1953 issue of the New York Herald Tribune that used frozen fried chicken patties or fillets along with other pre-processed foods to make a version of the dish at home.
Love this recipe