Sausage and Peppers Recipe – Chef Pasquale Sciarappa
Sausage and Peppers Recipe
Chef Pasquale Sciarappa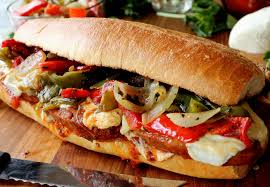 All Italian Americans have at one time or another enjoyed
Sausage and Peppers
Sausage and Peppers is really an Italian-American dish prepared using Italian sausage and Capsicum or as we know them in America, Bell Peppers as the primary ingredients. Usually this combination is served as a sandwich.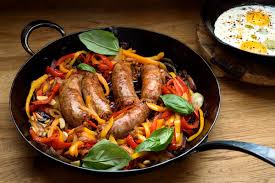 Sausage and Peppers – Some Italian restaurants in the United States prepare and serve sausage and peppers, and it is a common dish at Italian street festivals, Holy day feasts and special events in the
United States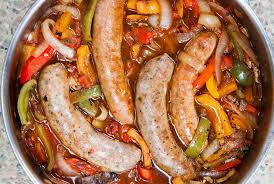 Italian-American food is based primarily on the culinary traditions of Southern Italian immigrants.  
That said, many immigrants over the years came from the north of Italy. Those people from the other end of the boot also influenced the Italian American style of cuisine to some extent also.
Most of these immigrants from Italy arrived in the United States during the late 19th and early 20th centuries.  During this time, many Italians coming from Naples and Sicily moved to large American cities, such as New York City, Philadelphia, Chicago, St. Louis, Boston, Los Angeles, and San Francisco.  The immigrant cuisine is largely derived from Neapolitan and Sicilian cuisine, and is particularly associated with these locations.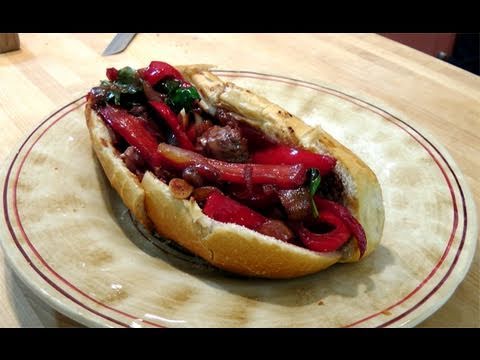 Italian-Americans often identify foods with their regional heritage. Sausage and Peppers are hugely popular. If I had to mention one thing that every Italian American event seems to have on the menu it's Sausage and Peppers on a delicious Italian Roll. I can taste it now right through the screen.
Southern Italian staples include dry pasta, tomato sauce, and olive oil, whereas Northern Italian staples include foods such as risotto, white sauce and polenta.
Hope you enjoy this recipe from Chef Pasquale.
 We Do.