Chicken Piccata with Lemon, Capers, and Artichoke Hearts
Chicken Piccata with Lemon, Capers, and Artichoke Hearts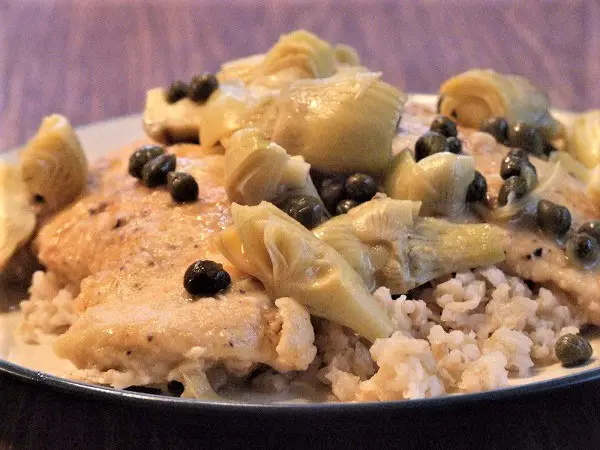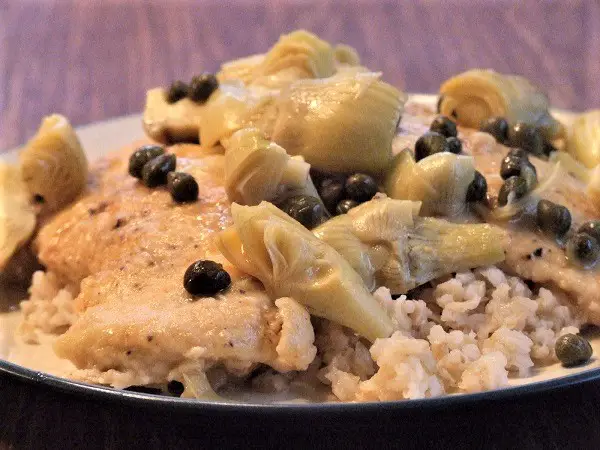 I like Chicken Piccata and I really liked the Chicken/Artichoke dinner I've made, so when I saw this Robin Miller recipe on the Food Network's website, I saved it immediately.

Ingredients:
    4 (4-ounce) boneless, skinless chicken breast halves

    Salt and ground black pepper

    1/3 cup all-purpose flour

    1/2 teaspoon finely grated lemon zest

    1/2 teaspoon paprika

    1/2 teaspoon garlic powder

    1 tablespoon olive oil

    1/4 cup fresh lemon juice

    1/2 cup dry white wine

    1/2 cup reduced-sodium chicken broth

    1 (14-ounce) can artichoke hearts, quartered

    1/4 cup drained capers

    1 cup quick-cooking brown rice

    1/2 cup frozen lima beans
Directions
Place chicken in zip-top bags and pound with a meat mallet or rolling pin until 1/4-inch thick. Remove chicken from bag and season all over with salt and black pepper. In a shallow dish (or plastic bag), combine flour, lemon zest, paprika, and garlic powder. Mix well. Add chicken and turn to coat. Remove chicken from flour mixture and shake off excess flour.

Heat oil in a large skillet over medium-high heat. Add chicken and saute 2 minutes per side, until golden brown and cooked through. Add lemon juice, wine and chicken broth and bring to a simmer. Simmer 5 minutes, until chicken is cooked through and sauce thickens. Add artichoke hearts and capers and simmer 1 minute to heat through.

Cook rice according to package directions, adding lima beans at the beginning of cooking process. Serve chicken and sauce with rice.