Chicken with Artichokes and Angel Hair
Chicken with Artichokes and Angel Hair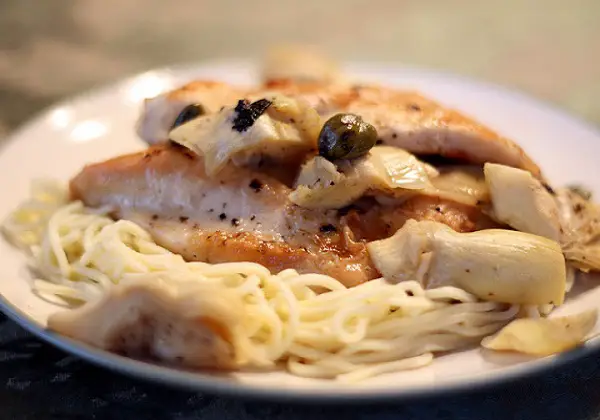 Ingredients
    Coarse salt and ground pepper

    1/4 cup all-purpose flour

    8 thin chicken cutlets (about 1 1/2 pounds total)

    2 tablespoons olive oil

    1 cup reduced-sodium chicken broth

    1 can (14 ounces) artichoke hearts packed in water, rinsed, drained, and quartered

    2 tablespoons rinsed and drained capers

    2 tablespoons butter

    8 ounces angel-hair pasta

    1/2 cup parsley leaves
Directions
Set a large pot of salted water to boil. Place flour in a shallow dish, and season with salt and pepper. Dredge cutlets, shaking off excess. In a large skillet, heat 1 tablespoon oil over medium-high. Cook chicken in batches, adding remaining oil as needed, until light golden, 1 to 3 minutes per side; transfer to a dish.

Add broth to skillet, and bring to a boil; cook until reduced by half. Add artichokes, capers, and the chicken with any juices. Gently swirl to combine, and bring just to a boil. Remove skillet from heat. Swirl in butter, and cover to keep warm.

Add pasta to boiling water. Cook until al dente; drain. Serve chicken and sauce over pasta, topped with parsley.