Baked Ziti with Marscarpone
Baked Ziti with Marscarpone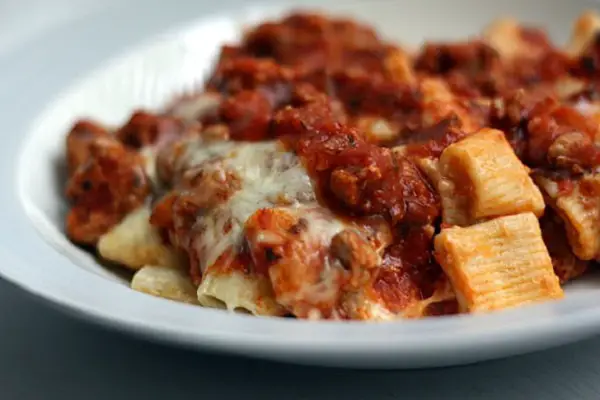 Ingredients
    1 lb ziti pasta

    1 (26 oz) jar spaghetti sauce

    1/2 lb ground beef

    1 small onion, diced

    3 cloves garlic, minced

    8 oz mascarpone cheese

    1 cup sour cream

    1-2 cups Mozzarella cheese

    1/4 cup Parmesan cheese
Directions
Cook pasta to al dente. Drain & set aside.

Meanwhile, brown meat with onion & garlic. Season with salt & pepper to taste. Add marinara sauce to the pan and simmer for about 10 minutes. Thin the sauce just a tad with about 1/8 cup water or chicken stock. Season the sauce with garlic & herbs, to taste.

In a large bowl, combine mascarpone cheese, sour cream, and cooked pasta.Layer the pasta, sauce and cheese in a large greased casserole dish as follows:

1/2 pasta

1/2 sauce

1/2 cheese

remaining pasta

remaining sauce

remaining cheese

Bake at 350 degrees F for 25 minutes. Remove from oven and top with Parmesan cheese and bake for an additional 5 minutes. Let sit for about 10 minutes before serving.