Chicken with Asiago, Prosciutto and Sage
Chicken with Asiago, Prosciutto and Sage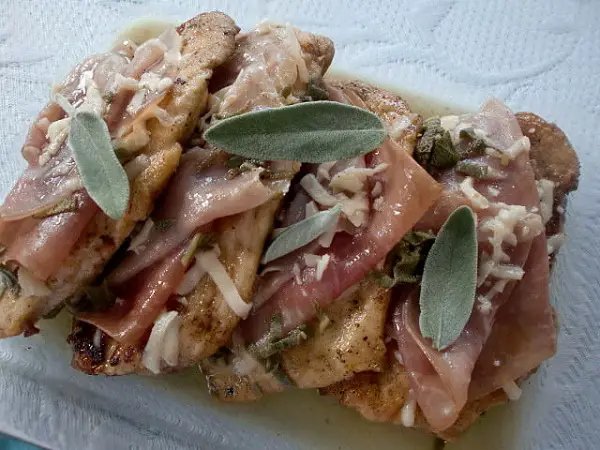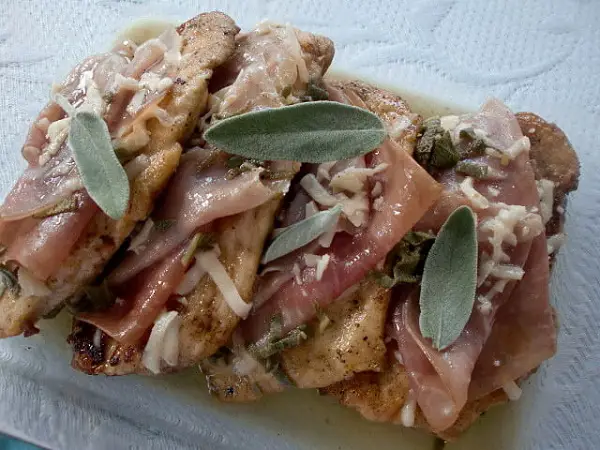 Ingredients
Serves 4 – 6
6 small skinless boneless chicken breast halves, pounded to 1/4-inch thickness

flour (leave off to make gluten free)

Salt and pepper

3 tablespoons butter, divided

1 tablespoon olive oil

1/2 cup asiago cheese

6 thin prosciutto slices

2/3 cup dry white wine

2 teaspoons minced fresh sage

Squeeze of fresh lemon juice

Whole sage leaves (for garnish)
Directions
Preheat oven to 375 degrees.

Sprinkle chicken breasts with salt and pepper. coat both sides with flour, shaking off excess.

Melt 1 tablespoon of butter and the olive oil in large saute pan over medium-high heat.

Add chicken breasts and saute until brown, turning once about 5 minutes.

Transfer chicken to rimmed baking sheet; reserve the saute pan.

Sprinkle 2 tablespoons cheese over each chicken breast.

Top each with a prosciutto slice and a little bit more of the cheese.

Bake until prosciutto gets slightly crisp and the cheese melts, about 5 minutes.

Meanwhile, add wine, minced sage, and 2 tablespoons butter to skillet. Boil until sauce is reduced to by half, scraping up browned bits, about 4 minutes.

Add a squeeze of lemon juice.

Transfer chicken breasts to platter.

Top each with sage leaf, drizzle pan sauce over, and serve.