Chicken with Prosciutto di Parma
Chicken with Prosciutto di Parma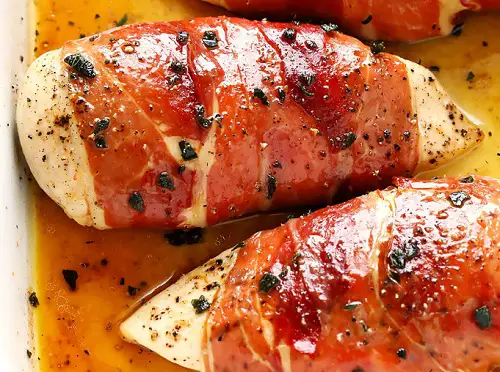 Ingredients:
1 chicken, about 2 lbs
3 tablespoons sweet butter
5 large sage leaves, fresh or preserved in salt
1 teaspoon rosemary leaves, fresh, preserved in salt or dried and blanched
1 teaspoon dried marjoram (oregano)
1 teaspoon salt
1/4 teaspoon freshly ground black pepper
1 tablespoon extra virgin olive oil
8 slices Prosciutto di Parma
Directions:
Cut the chicken into eight pieces.
Melt the butter in a small saucepan over a pot of boiling water.
Finely chop the sage, rosemary and marjoram together on a board.
Put the chopped ingredients into a small bowl, then add the melted butter, salt and pepper to the chopped ingredients. Mix very well.
Next, lay a large sheet of aluminum foil on the table and brush the shiny side with olive oil.
Using a pastry brush, coat each piece of chicken with the herb-butter mixture.
Wrap each piece in a slice of Prosciutto di Parma, then place the chicken pieces on the foil close together and wrap completely with foil.
Place the package in a terra cotta or ceramic casserole and cover.
Place the casserole in a cold oven and turn the oven temperature to 450° F.
Bake for one hour and 45 minutes without removing the cover.
Remove from oven and let stand for five minutes.
Use scissors to cut from the center of the foil outward in four directions, making a cross.
Cut each quarter in half and fold back each of the foil pieces from the center, forming petals over each side of the casserole. Serve immediately. Serves 4 to 6.