Chicken with Vodka Sauce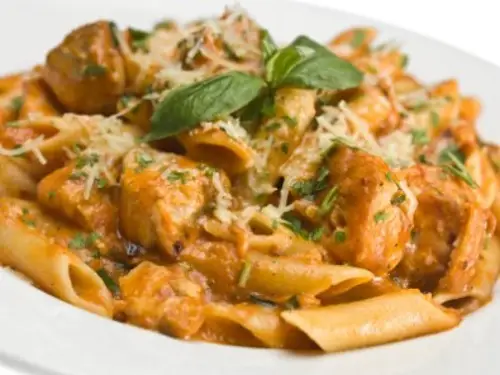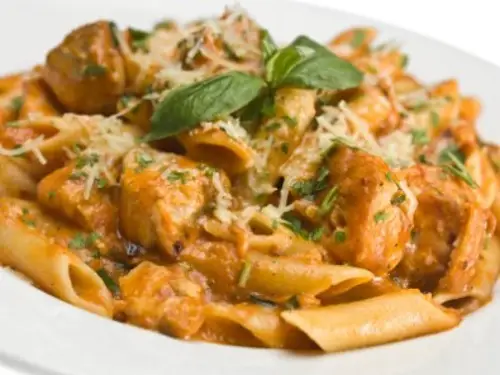 INGREDIENTS
Serves 4 people
1 box penne pasta

4 boneless chicken breasts, cut into pieces

3 Tbls olive oil

1 Tbls butter

1 bunch long green onions, chopped

1 green bell pepper diced

3 cloves of garlic crushed

2 or 3 oz of vodka

3 15oz. cans of tomato sauce

5 fresh basil leaves, chopped

1 tsp of salt

1 tsp of fresh ground black pepper

8 oz of mascarpone cheese

1/2 cup of heavy whipping cream

1/2 cup of chopped fresh parsley

Freshly grated Parmesan cheese

PREPARATION

Add 6 quarts of water to a large pot and cook the pasta until "al dente". Around 10 minutes. Set aside.

Melt butter in oil and sauté the chicken pieces for 2 minutes.

Add the onions, peppers and garlic and cook for another for 2 minutes.

Add vodka to deglaze the pan until vodka reduces slightly.

Add tomato sauce and basil and cook for about 10 minutes longer.

Season with salt and pepper.

Add cream and mascarpone cheese and stir until cheese in melted.

Simmer for around 15 minute more but do not bring to a boil.

Plate the pasta and spoon the sauce over the top.

Sprinkle with parsley and Parmesan cheese.