Chickpea and Aubergine (eggplant) Warm Salad
Chickpea and Aubergine (eggplant) Warm Salad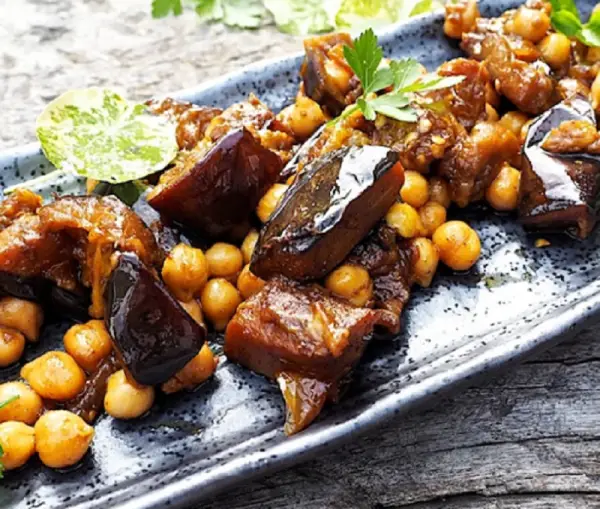 Silvia's Chickpea and Aubergine's salad
Ingredients
serves 4 as a side
1 large aubergine (eggplant), cut into 2cm cubes

1 garlic clove, skin on and bashed with the back of a knife

4 tablespoons of extra-virgin olive oil

1 teaspoon of paprika

1 tin of chickpeas, well drained

salt and pepper for seasoning

parsley leaves and nasturtium to scatter on top
Method
1. Heat up the oil in a large, non-stick frying pan, add the garlic and cook in the oil to infuse its scent into it for 1 minute. Add the aubergine, stir well until well coated with the oil, then turn  the heat to medium-low, cover with a lid and allow the hot oil and the steam to cook the vegetables gently for 15 minutes. Stir from time to time.
2. When the aubergines look soft and slightly caramelized, add the chickpeas and paprika, stir well and cook, uncovered, over medium heat for 4-5 minutes. Taste for salt and adjust accordingly.
3. Serve warm topped with parsley and nasturtium leaves and a grounding of black pepper.
Watch Made in Italy with Silvia Colloca, on DVD
Silvia's Cucina the cookbook is available in stores and online!
Silvia's new book Made in Italy with Silvia Colloca is on sale now!