Chocolate Swirl Cheesecake
Chocolate Swirl Cheesecake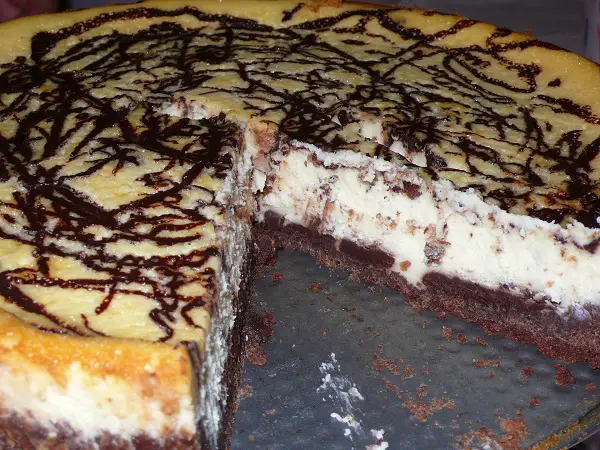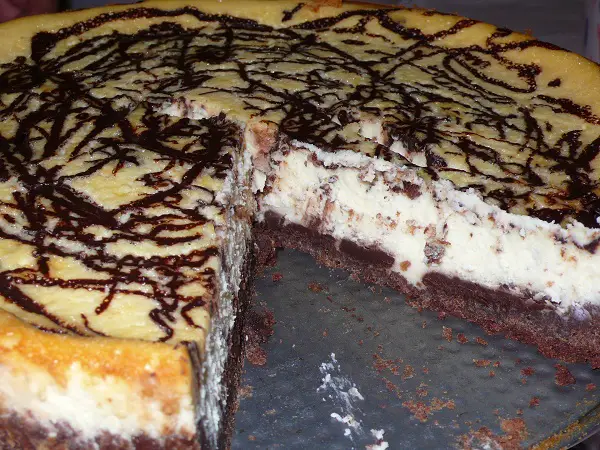 Ingredients
Crust
5 tbsp unsalted butter

2 cups chocolate wafer crumbs
Filling
2 pounds (4 8-ounce packages) cream cheese, softened

1¼ cups sugar

5 large eggs, at room temperature

2 tbsp heavy cream

1 tbsp vanilla extract
Topping
3 tbsp heavy cream

4 ounces semisweet chocolate, finely chopped
Directions
Preheat oven to 325°F.
To make the crust:
In a small bowl, combine the butter with the chocolate wafer crumbs. Press into the bottom of the buttered 10-inch springform pan. Bake for 10 minutes. Remove from oven and cool on rack.
To make the filling:
In a large bowl, on the low speed of an electric mixer, beat the cream cheese until very smooth. Gradually add the sugar. Add the eggs one at a time. To ensure that the batter has no lumps and that no ingredients are stuck to the bottom of the bowl, stop the mixer several times, and scrape down the sides of the bowl with a rubber spatula. Stir in the heavy cream and the vanilla.
Pour the batter into the prepared pan and set the pan on a baking sheet.
To prepare the topping:
In a small saucepan over high heat bring the heavy cream to a simmer. Add the chocolate, turning heat down to low and stirring constantly until chocolate is completely melted. Remove from heat and cool slightly. Drop this mixture by the teaspoonful on top of batter. Using the tip of a sharp knife, swirl chocolate mixture into batter, forming a decorative pattern.
Bake until edges are set and center moves only slightly when pan is shaken, about 1 hour. At the end of the baking time, turn off the heat, and using a wooden spoon to keep oven door slightly ajar, cool cake in oven for 1 hour before removing. Cover and refrigerate for at least 12 hours.
Remove cake from the refrigerator at least 15-30 minutes before cutting and serving.
Makes 1 10-inch cheesecake.