Farfalle with Zucchini Flowers and Saffron
Farfalle with Zucchini Flowers and Saffron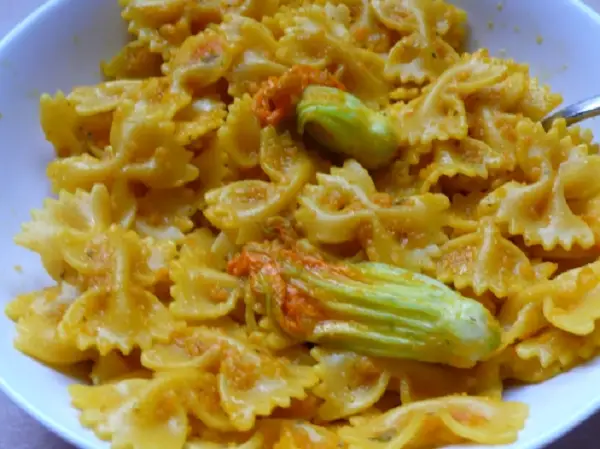 Ingredients
8 to 12 zucchini flowers

    1 carrot, peeled

    1 stalk of celery

    1 small onion

    ½ cup of flat-leaved parsley

    2 tbsp butter

    2 envelopes of saffron

    ½ lb of farfalle pasta

    salt for pasta water
Directions
Fill a large pot with water for the pasta. Bring to a boil over high heat.

Clean the carrot, celery and onion and chop them up in a food processor with the parsley.

 Heat butter in a wide saucepan over medium-high heat and add the carrot, celery, onion and parsley mix.

Allow to simmer over medium-low heat for a few minutes while bringing a large pot of water for the pasta to a boil. If the mix starts to dry out, add water as needed.

In the meantime, clean your zucchini flowers. There were a number of little bugs on my zucchini flowers, which you won't always find, but it is best rinse them out to make sure you don't get that extra protein. Dry them with a kitchen cloth or allow them to drain in a colander, the extra water won't hurt.

Once the water starts to boil for the pasta add a small handful of salt to the water and bring to a rolling boil. Add the pasta and cook until al dente.

At this point, add the saffron and the zucchini flowers.

When the pasta is perfectly al dente, drain the pasta and turn up the heat on the sauce. Without shaking all of the water out of the colander pour the pasta into the pan and toss it with the sauce. This allows for the pasta to cook a little longer in the sauce and to absorb the flavor. Serve immediately.