Chocolate Zucchini Cake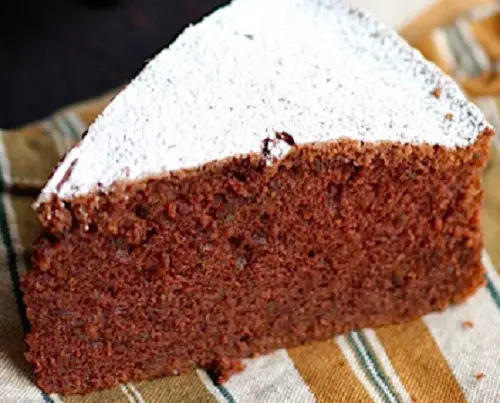 Ingredients:
2 medium zucchini, trimmed and grated (I grated mine on the medium holes of a box grater)

9 tablespoons of unsalted butter, at room temperature, divided

2-3/4 cup flour

1/4 cup unsweetened cocoa, sifted

1-1/4 teaspoon baking soda

1 teaspoon salt

1-1/2 cup sugar

1/2 cup vegetable oil

2 eggs

1 teaspoon vanilla extract

1/2 cup buttermilk *

1/4 cup confectioners' sugar
*if you don't have buttermilk on hand, which I frequently do not, simply add 1/2 tablespoon vinegar to 1/2 cup milk (whole or lowfat) and let sit for 15 minutes. Works.
Instructions:
Working in batches, put a small mound of the grated zucchini in center of a large square of double-layer cheesecloth (I used a thin tea towel).  Gather corners together and squeeze out as much water as possible from the zucchini.

Transfer zucchini to a bowl and set aside.  (I had about 2 cups of this squeezed zucchini. Do not obsess about the amount, though.  This is a very forgiving recipe when it comes to the amount of zucchini.)

Preheat the oven to 325 degrees F.  Butter a deep 9″ cake pan with 1 tablespoon of the butter. Sift flour, cocoa, baking soda and salt together into a mixing bowl and set aside.

Beat together the remaining 8 tablespoons of butter and sugar in a large bowl with an electric mixer on medium speed until fluffy, 3-4 minutes.  Add oil, beating well.

Beat in one egg at a time, add vanilla, reduce speed to low and beat in flour mixture and buttermilk in 3 alternative batches.

Stir in reserved zucchini.

Pour batter into prepared pan and bake until toothpick inserted in center comes out clean, about 1 hour and 15 minutes (Start checking after 1 hour – baking time could be faster.)

Remove from oven and set aside to cool for 15 minutes.  Invert onto a rack to cool completely.

Dust with confectioners' sugar.