Fall and Summer Salad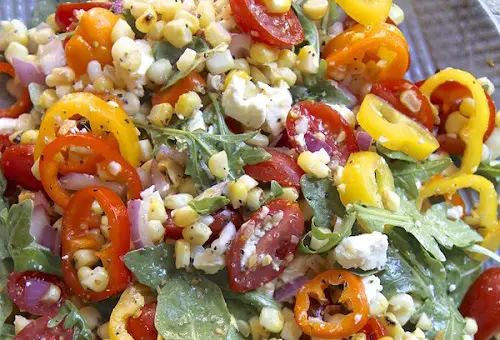 Ingredients
serves 8
salad:
4 ears of sweet corn, with husks still on

½ cup diced red onion (about ½ of a medium onion)

2 cups of sliced sweet peppers (I like the mini peppers, sliced into rings)

1 cup cherry tomatoes, halved

½ cup feta cheese (you can use goat cheese, ricotta salata, etc. or any tangy cheese)

2 cups fresh arugula
dressing:
3 Tablespoons extra virgin olive oil

2 Tablespoons white balsamic vinegar

¼ teaspoon onion powder

¼ teaspoons Montreal Steak Seasoning (use can just use pepper, but I like to use this because of its robust flavor)

¼ teaspoon sea salt (or to taste)
Directions
Soak corn, in the husks, in water for about 30 minutes.

In a large bowl, mix the onions, sweet peppers and tomatoes together.

Whisk together all ingredients for the dressing in a measuring cup and set aside.

Light a grill and set it to medium high heat.  When the grill is hot, place the soaked corn on the grill.  The husks will keep the corn moist and steam the corn.  Grill the corn for about 12  – 15 minutes, rotating the ears every few minutes with tongs.   The husks will become charred – that's okay.

Remove the cooked corn from the grill.  Keep the grill lit.  Wearing a grill or oven mitt, hold each ear and carefully pull back the husks with a pair of tongs.  The silk of the corn should just slide off, also.  Pull the husks back to create a "handle".  Place the corn back on the grill and cook until the corn is nicely charred, using the husks to turn the ears over.