Cinnamon  Zucchini Bread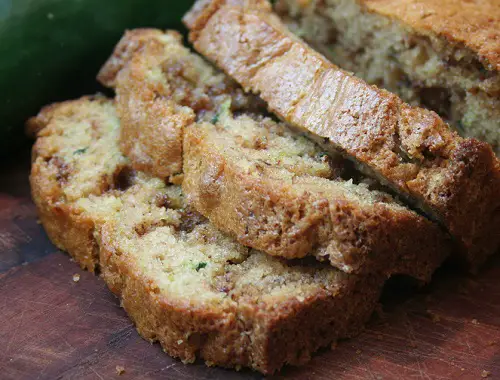 Ingredients
2⅓ cups flour

1½ teaspoon baking soda

2 teaspoons cinnamon

½ teaspoon salt

1 cup sugar

⅓ cup canola oil

2 eggs

1 teaspoon vanilla extract

¾ cup light sour cream

3 cups grated zucchini, peeled

1½ cup cinnamon chips (1 package Hershey's)

½ cup chopped walnuts (my addition)

Cinnamon Topping:

2 tablespoons sugar

2 teaspoons cinnamon
Instructions
Preheat oven to 350 degrees. Grease and flour 2 loaf pans (or 4 mini loaf pans) and set aside.

Combine flour, baking soda, cinnamon and salt, in a bowl and whisk to combine. Set aside.

In large mixing bowl, beat sugar, oil, and eggs. Mix in vanilla, and sour cream, beat to combine.

Add dry ingredients and mix just until combined. Mix in zucchini and cinnamon chips (and walnuts if desired) just until combined.

Divide batter between pans.

Prepare Cinnamon Topping: Combine 2 tablespoons sugar and 2 teaspoons cinnamon and sprinkle over the top of the batter in the pans.

Bake for 50-60 minutes (30 minutes for mini loaves) or until a toothpick comes out clean.

Cool 5 minutes in pans on a wire rack; remove from pan, and cool completely on a wire rack before cutting.
NOTE:
Don't leave the bread in the pans more than 5 minutes after you remove it from the oven because the melted cinnamon chips make it difficult to remove once they've cooled.