Marbled Pumpkin Ginger Tart
Marbled Pumpkin Ginger Tart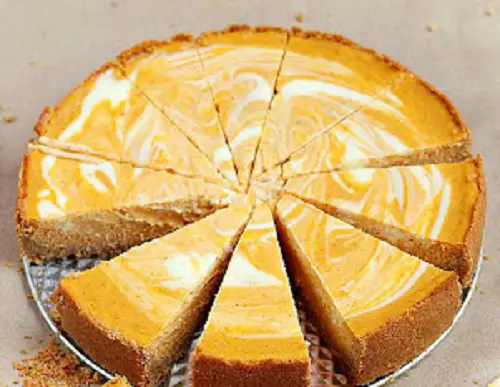 Ingredients
CRUST:
4 ounces (115g) ginger cookies

3 ounces (85g) graham crackers (about 5-1/2 sheets)

4 tablespoons melted butter
CHEESECAKE BATTER:
4 ounces (115g) cream cheese, softened

3 tablespoons (40g) granulated sugar

1 large egg yolk
PUMPKIN BATTER:
1 large egg

1 large egg white

1-1/4 cups (300g) pumpkin puree

¼ cup (50g) granulated sugar

¼ cup (50g) brown sugar

½ teaspoon salt

¾ teaspoon ground cinnamon

½ teaspoon ginger

¼ teaspoon ground cloves

1 cup heavy cream
Instructions
Preheat oven to 425 degrees. To make the crust, finely grind the ginger cookies and graham crackers in a food processor. Add the melted butter and process until the cookie mixture is moistened. Press the mixture firmly into the bottom and up the sides of a 9-inch tart pan with a removable bottom. Place pan on a rimmed baking sheet.

For the cheesecake batter: mix together the ingredients in a small bowl until smooth.

For the pumpkin batter: beat the egg and the egg white lightly in a large bowl. Whisk in the pumpkin, sugars, salt, cinnamon, ginger and cloves. Gradually whisk in the cream.

To assemble the tart: pour the pumpkin batter into the crust. Dollop the cheesecake batter over the pumpkin batter, then marble the two together with a knife. Bake for 10 minutes, then reduce temperature to 350 degrees and bake for another 30 minutes or until a knife inserted in the center comes out clean.

Cool the tart on a rack and then refrigerate. Can be made a day ahead.