Brudo Abruzzese (traditional bone broth with mini meatballs and pecorino egg bites)
Brudo Abruzzese (traditional bone broth with mini meatballs and pecorino egg bites)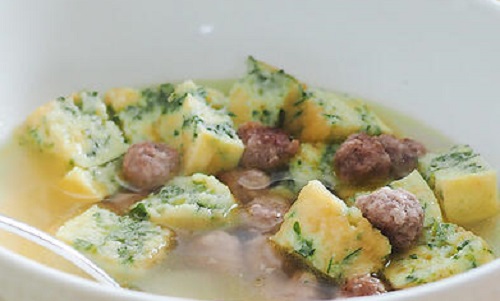 Ingredients
Serves 6-8
Preparation
1
hr
Cooking
4
hr
Brodo
1 hen (or chicken)

1 onion, whole, peeled and studded with 8 cloves

1 celery stalk, cut into thirds

1 carrot, cut into thirds

1 tomato

2 very small pieces nutmeg (about 2 mm each)

2-3 tsp salt flakes
Savoury sponge
6 eggs, separated

75 g (½ cup) plain flour

50 g (½ cup) freshly grated parmesan

2 tbsp grated pecorino

pinch of salt flakes

1 large handful of flat-leaf parsley, finely chopped
Mini meatballs
400 g premium beef mince

1 egg, lightly beaten

1½ tsp salt flakes

large pinch freshly grated nutmeg

30 g freshly grated parmesan

2–3 tbsp finely chopped flat-leaf parsley

1 slice bread, crusts removed, soaked in milk

2 tbsp extra virgin olive oil, for pan-frying
Instructions
1. For the brodo, bring a large stockpot of saucepan of water to the boil. Add the hen or chicken and cook for 10-15 minutes, skimming off any foam that comes to the surface. Add the onion, celery, carrot, tomato, nutmeg and salt and slowly bring to a simmer. Cook gently over low-medium heat for at least 3 hours, skimming off the foam that comes to the surface during the first hour of cooking. Cooking it for longer will improve and concentrate the richness of the flavour and this is why you only season it with a little salt to start with, as the salt will concentrate too as the stock cooks.
2. After the stock has had enough time, taste again for salt and adjust if needed.  Strain the stock through a sieve and reserve the chicken meat for a salad or anything else you wish to make. Set the brodo aside.
3. Meanwhile, for the savoury sponge, preheat the oven to 180°C. Grease and line a medium baking dish with baking paper.
4. Place the egg yolks in a large bowl and lightly beat with a fork. Add the flour, cheeses, salt and parsley and stir to combine.
5. In a separate bowl, whisk the egg whites until soft peaks form. Mix 2 tablespoons of the beaten whites into the yolk mixture to loosen it, then gently fold in the remaining egg white with a metal spoon. Pour the mixture into the lined dish and bake for 20–25 minutes or until set and golden. Remove from the oven, stand until cooled to room temperature, then cut into 2-cm squares.
6. For the mini meatballs, place the mince, egg, salt, nutmeg, cheese and parsley in a large mixing bowl. Squeeze the milk out of the bread, then add the bread to the bowl. Using your hands, mix all the ingredients until well combined. With wet hands, roll a teaspoon of mixture into a ball and place on a tray. Repeat with the remaining mixture to make about 40 small meatballs.
7. Heat the oil in a large frying pan over medium heat and cook the meatballs, in batches if necessary, for 3-4 minutes or until just cooked.
8. To serve, put 4–5 meatballs and a handful of savoury sponge in each bowl, ladle the hot broth over the top and slurp away.
Cook's notes
Oven temperatures are for conventional; if using fan-forced (convection), reduce the temperature by 20˚C. | We use Australian tablespoons and cups: 1 teaspoon equals 5 ml; 1 tablespoon equals 20 ml; 1 cup equals 250 ml. | All herbs are fresh (unless specified) and cups are lightly packed. | All vegetables are medium size and peeled, unless specified. | All eggs are 55-60 g, unless specified.
Silvia Colloca shares her Italian family secrets in the brand-new second-season of Cook like an Italian.