Pasta and chickpeas with Tuscan cabbage
Pasta and chickpeas with Tuscan cabbage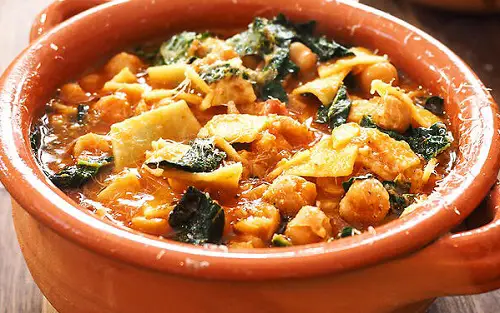 Using passata for the sauce gives it a thick, soup-like consistency and yields a richer bowl of pasta.

Ingredients
2 tbsp extra-virgin olive oil

100 g piece smoked pancetta or speck, cut into small pieces

1 large French shallot, finely chopped

1 garlic clove, skin on, smashed

2-3 sprigs thyme, leaves picked

2 400 g cans chickpeas, drained and rinsed

1 piece of parmesan cheese or pecorino rind

salt and freshly ground black pepper, to taste

500 ml (2 cups) passata

200 g dried egg pappardelle, coarsely broken with your hands

1 small bunch cavolo nero, leaves stripped and coarsely chopped

grated pecorino and chilli oil (optional), to serve
Instructions
Heat the oil in a heavy-based saucepan over medium heat.

Add the pancetta and cook until it starts to caramelise.

Add the shallot, garlic and thyme and cook for 1-2 minutes.

Stir in the chickpeas and cheese rind and season with a little salt.

Add the passata and 400 ml water, bring to the boil, then reduce the heat to low and simmer for 30-40 minutes or until slightly reduced.

Add a couple of ladles of boiling water to the pan to ensure there's enough liquid to cook the pasta straight in with the chickpeas.

Bring to the boil, add the broken pappardelle and stir well so the pasta doesn't stick.

Cook over medium-high heat for 3-5 minutes or until the pasta is al dente. You will notice that the soup thickens as the pasta cooks.

Turn off the heat, add the cavolo nero and allow the residual heat to wilt and cook it gently. Adjust the seasoning to your liking.

Let the soup stand for a few minutes before serving to allow the starch from the pasta to thicken it a little or eat it straight away if you like it a bit soupier.

A generous sprinkling of grated pecorino cheese and drizzle of chili oil is highly recommended!
Cook's notes
Oven temperatures are for conventional; if using fan-forced (convection), reduce the temperature by 20˚C. | We use Australian tablespoons and cups: 1 teaspoon equals 5 ml; 1 tablespoon equals 20 ml; 1 cup equals 250 ml. | All herbs are fresh (unless specified) and cups are lightly packed. | All vegetables are medium size and peeled, unless specified. | All eggs are 55-60 g, unless specified.
Silvia Colloca shares her Italian family secrets in the brand-new series, Cook like an Italian.