Cipollata – Onion Soup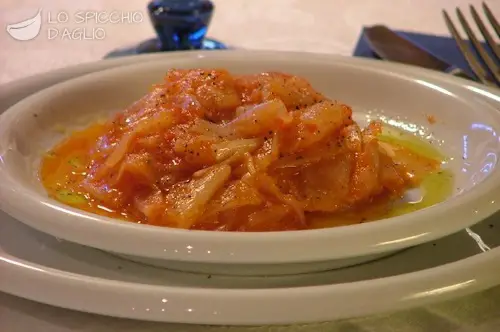 The true Tuscan flavor comes through by lining the bowl with toasted Ciabatta bread and pouring the onions over the top.

INGREDIENTS
6 large white, yellow or red onions, thinly sliced

1/4 pound of pancetta, chopped

3 cloves of garlic, chopped

6 Tbls of extra virgin olive oil

2 Tbls of butter

6 cups of beef stock or canned beef broth

1/2 cup of dry red wine

4 thick slices of Ciabetta or similar Italian bread

1 cup of fresh grated Parmigiano Reggiano cheese

Salt and fresh ground black pepper to taste
PREPARATION
Serves 4 people.
In a large soup pot, sauté the pancetta and garlic for 2 minutes in 4 Tbls of olive oil and butter.

Add the onions and cook covered for around 15 minutes stirring often until the onions slightly browned.

Add the broth, wine, salt and pepper.

Stir together, cover and cook on medium heat for 30 to 40 minutes.

Brush the bread on both sides with remaining oil.

Broil the bread on both sides until toasted.

Place the bread in bottom of four individual bowls.

Pour the soup over the bread and sprinkle with cheese.

Serve the soup with the remaining cheese.