Lentils & Coteghino New Years Eve Tradition 
Lentils & Coteghino
New Years Eve Tradition

Many Italians follow the tradition of Cotechino and Lentils for New Years. Therefore we thought we would bring this up now so if you have to special order the Cotechino you have time for delivery for New Years.
Cotechino with lentils is one of the typical dishes of the Italian culinary tradition. Its consumption is closely linked to the New Year's holiday, thanks to its symbolic nature as well as it's culinary one. It represents abundance and is served for good luck for a
Prosperous and Profitable New Year.
It is one of the best and most appreciated dishes made in Italy during the holidays and, a bit like stuffed turkey typical of American Thanksgiving, represents a  symbol which the Italians are not willing to give up. The tradition of cotechino with lentils is in fact passed down from generation to generation and each family has its own favorite recipe according to how they prepare it. Its standard preparation requires grilling for a few minutes in the oven once cooked, on a bed of lentils previously stewed and seasoned with spices and various aromas.
The cotechino is an Italian large pork sausage requiring slow cooking; usually it is boiled at low heat for several hours. Its name comes from cotica (rind), but it may take different names in the different production areas. According to tradition, it is served with lentils on New Year's Eve, because lentils—due to their shape—are 'credited' to bring money for the coming year.
It is prepared by filling the natural casing with rind, pork meat, and fat mixed with salt and spices; in industrial production, nitrites and nitrates are added as preservatives.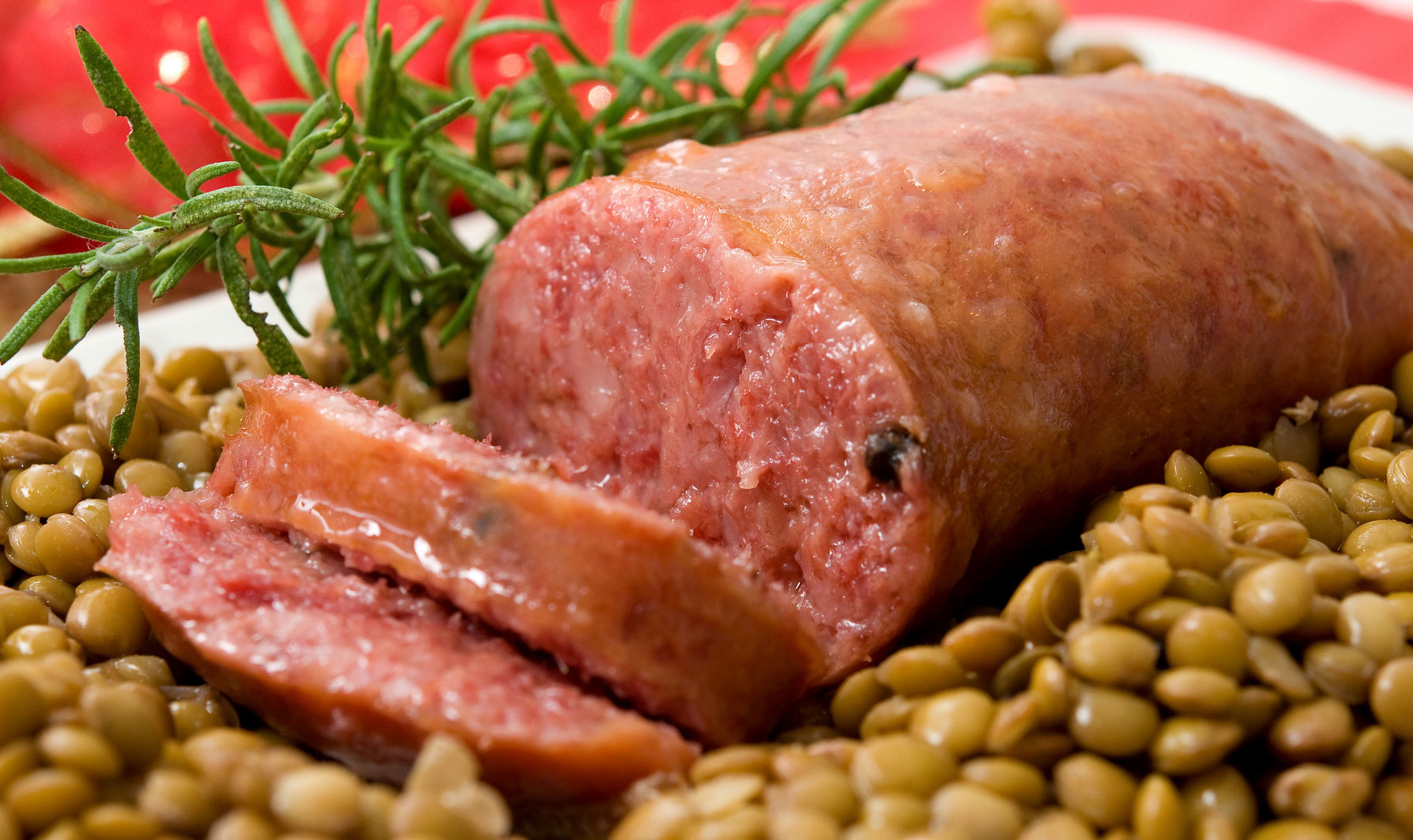 Cotechino dates back to around 1511 to Gavello in Mirandola, where, whilst besieged, the people had to find a way to preserve meat and use the less tender cuts, so made the cotechino. Mirandola developed its own specialty enveloped in a hollowed out pig's trotter, named the Zampone.
By the 18th century it had become more popular than the yellowish sausage that had been around at the time, and in the 19th century entered mass production in and around the area.
Cotechino is often served with lentils alongside mashed potatoes or polenta, especially around New Year.
INGREDIENTS
for 4 people
1 Cotechino sausage , about 14 oz

2 tbsp Extra Virgin Olive Oil

1 onion

1 bay leaf

2 cloves

12 oz dried lentils , or 24 oz jarred lentils

3 tbsp canned tomatoes

1 cup broth

salt and pepper to taste
Preparation
Rinse the lentils, then soak them in a bowl full of cold water for 12 hours. If you prefer, you can used jarred lentils.

Using the tip of a skewer or a fork, poke holes in the cotechino. Place it in a pot of cold, unsalted water. Bring to a boil, then lower the heat and cook over low heat for 2 hours.

In the meantime, peel and dice the onion. Place a frying pan over medium heat. Add a little olive oil and, once hot, add the onion, bay leaf and cloves. Once the onion is translucent, but not yet brown, add the lentils, drained of their soaking water and rinsed. Saute for 30 seconds, then add the tomato. Mix well and cover with broth.

Bring to a boil, then cook for 20 to 30 minutes or until the lentils are soft, but aren't falling apart. Season with salt and pepper.

Once done cooking, remove the cotechino and cut off any kitchen twine. Cut into ½ to 1 inch slices. Remove the casing and serve with the lentils. If you like, you can grind extra pepper on top.