Classic Contadina® Spaghetti Sauce
Classic Contadina® Spaghetti Sauce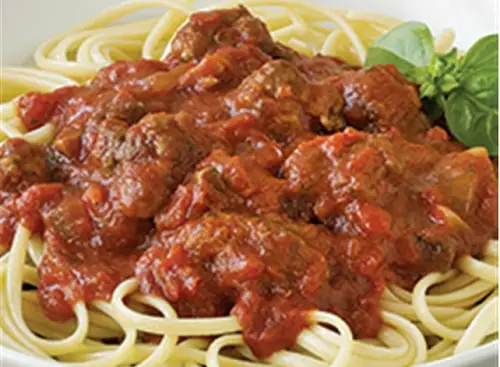 Ingredient
yields 6 servings
    1 pound Italian sausage (casings removed), or extra lean ground beef

    1 cup chopped onion

    1 teaspoon minced garlic

    1 (28 ounce) can CONTADINA® Crushed Tomatoes

    1 (15 ounce) can CONTADINA® Tomato Sauce

    1 cup chopped fresh mushrooms

    ½ teaspoon dried oregano

    ½ teaspoon dried basil

    ½ teaspoon salt

    ½ teaspoon sugar

    1 pound Cooked pasta
Directions
    Step 1  Combine sausage, onion and garlic in a large skillet. Cook over medium-high heat 4 to 5 minutes or until sausage is no longer pink inside, stirring to break up sausage.
    Step 2  Stir in crushed tomatoes, tomato sauce, mushrooms, oregano, basil, salt, sugar.
    Step 3 Bring to a boil. Reduce heat to low; cook, uncovered, 30 minutes. Serve over hot cooked pasta.
Tips
VARIATIONS: To make Spicy, Creamy or Veggie Spaghetti Sauce, prepare recipe as directed above, except:
Spicy Spaghetti Sauce: Add 1/8 to 1/4 tsp. dried red pepper flakes in Step 2.
Creamy Spaghetti Sauce: Stir in 1/4 cup heavy cream after 30 minute simmer. Do not boil.
Veggie Spaghetti Sauce: Omit meat and add 2 Tbsp. olive oil, 1 cup diced carrots, 1/2 cup sliced celery, 1 can (15 oz.) white or cannellini beans, rinsed and drained, in Step 1.