Pasta with Butternut Squash,Tarragon and Cider Sauce
Pasta with Butternut Squash,Tarragon and Cider Sauce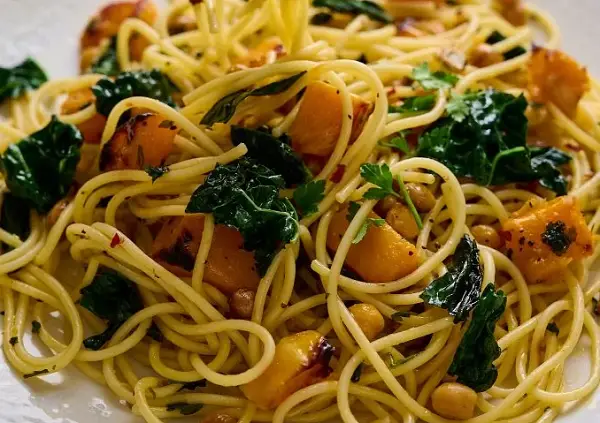 This recipe highlights the colors and flavors of autumn. Fresh tarragon adds a piney and aromatic taste that is mellowed by the sweetness of the cider. Quality whole grain pasta is hearty enough to handle the density of the squash, the depth of the roasted peppers, and the sweet caramel-like nature of the cider.

Ingredients
Yield: 8 to 10 servings
2 medium butternut  squash, peeled and diced into 1-inch pieces

6 tablespoons olive oil, plus additional for serving

2 teaspoons salt

3 red bell peppers, roasted, peeled, and sliced

2 tablespoons walnut oil

2 leeks, rinsed and sliced into thin rings

6 cloves garlic, minced

1 cup walnuts, toasted and chopped

1/2 cup fresh tarragon leaves , chopped, or 2 tablespoons dried

1 cup fresh basil leaves, chopped, or 1/4 cup dried

1/4 cup sherry vinegar

1/2 cup apple cider

1/2 bunch lacinato kale, spinach, or chard, stemmed and torn into small pieces

1 pound fresh whole grain fettuccini or linguini

1/4 cup grated Asiago or Parmesan (omit for vegan version)
Instructions:
Preheat the oven to 400 degrees.

Coat the squash with 4 tablespoons (1/4 cup) of the olive oil and the salt and roast for about 25 minutes, until the squash is very tender.

Meanwhile, prepare the peppers and set them aside.

Heat the remaining 2 tablespoons of olive oil and the walnut oil in a large skillet over medium heat and sauté the leeks and garlic for about 3 minutes.

When soft, add the red peppers, walnuts, tarragon, basil, vinegar, and squash and stir until well mixed.

Add the apple cider and simmer for a minute, then add the greens and cover the pan.

Cook for 30 seconds, just until the greens are wilted, then remove the pan from the heat immediately.

In a large pot, bring 6 cups of water to a rolling boil and cook the noodles until they are tender but not too soft, about 10 minutes.

Drain the pasta in a colander and cool slightly under running water.

Combine the vegetables with the cooked pasta, toss with some additional olive oil, and sprinkle with grated Asiago or Parmesan cheese.