Two Cheese Creamy Pumpkin Soup Italian Style
Two Cheese Creamy Pumpkin Soup Italian Style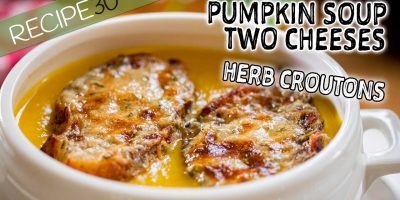 This two cheese creamy pumpkin soup by Recipe 30 is out of this world! It is a great comfort soup and the Parmesan cheese with crusty melted cheesy herb croutons are a fantastic complement.

Ingredients
1 large brown onion

1 leek (washed)

3-4 garlic cloves

2.6lb – 1.2kg pumpkin (42oz)

5-6 cups homemade chicken stock

7oz – grated Parmesan cheese

6 tbsp Mascarpone (30 minute room temp)

A few sage leaves (4-6)

1 tbsp rosemary leaves (1 sprig)

12 slices Rustic rye bread (preferably stale baguette)
Instructions
 Step 1 Slice up the bread and cut small enough to fit two pieces in your soup bowls. Place on sheet pan and dry in oven for 30 min at 250°F – 120°C (If bread is stale, skip that step)

 Step 2 Using a sharp knife, cut the pumpkin in pieces, remove seeds, trim off skin, and cut up into chunky pieces.

 Step 3 In a large saucepan on medium heat, add olive oil, finely chopped onion, chopped leek and minced garlic. Sweat until tender. Add the pumpkin pieces pieces, chicken stock and gently simmer for approx. 30 minutes or until the pumpkin is very soft.

 Step 4 Once cooked, using a stick blender, blitz the soup then add two thirds of the Parmesan cheese, 3 tbsp mascarpone cheese. Season with salt and pepper and mix well, taste for seasoning and adjust if required. Keep warm. If the soup is too thick add a little water.

 Step 5 In a mixing bowl, place 3 tbsp mascarpone cheese and remaining grated Parmesan cheese, finely chopped sage, finely chopped rosemary, mix well. Using a butter knife, spread mixture over your dried croutons, all the way over the edges so they don't burn. Pour the soup in heat proof soup bowls, add the cheesy croutons on top of soup, place soup bowls on a sheet pan and into the oven under the broiler (grill) until cheese has browned. Remove and serve soups immediately.